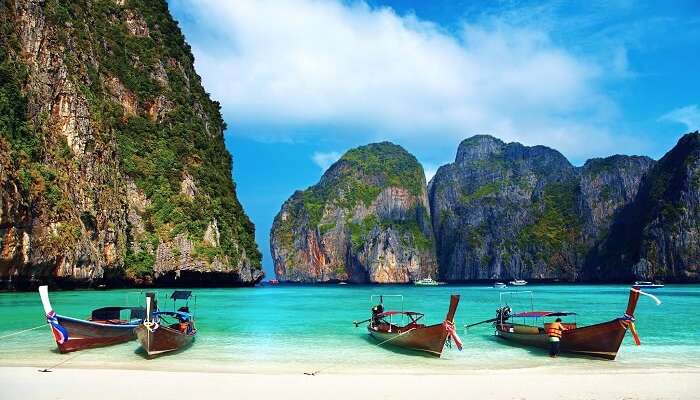 Phuket is one of the most popular beach resorts in Thailand. Its popularity worldwide, inviting millions of foreign tourists come to visit the largest island in Thailand every year. Has an area of ​​approximately 576 km2, most of its territory is in the form of mountains, forests, and plantations. The beaches around the island are also beautiful, so besides tours to Phi Phi Island, which is usually the main destination for visits to Phuket, there are many other tourist attractions that you can explore on this island. Also, you can hire the best luxury boat in this island by visiting https://www.isabellayachtsphuket.com/.
Because of its tropical climate, Phuket is ideal to visit all year round. But the most appropriate is in the dry season, which apparently lasts from November to April.
Ready to go for a walk? Here it is the tourist attractions in Phuket that must be visited.
Wat Chalong
The largest, most important and most visited temple in Phuket, is on Chaofa Road, about 7 km south of Phuket Town. It has the name Wat Chaithararam, but it is more popularly known as Wat Chalong because it is located in the Chalong area. The most interesting thing about Wat Chalong is its magnificent three-story architecture called the Chedi or The Golden Pagoda. As the most popular temple in Phuket, it becomes one of the places that must be visited by tourists.
Thai people themselves always visit this place for worship, especially crowded on weekends. Open 24 hours and there is no entrance fee (but can make donations in the boxes provided). Because of the crowds of visitors, of course, there are also many places to sell around this temple that is interesting for shopping trinkets.
Phuket Big Buddha
The giant Buddha statue is one of Phuket's most important and respected landmarks. Built on the highest hill in Phuket, namely Nakkerd Hills which is between the Chalong and the Kata areas. This statue has a height of about 45 meters and a diameter of 25 meters, so it is already visible from a distance. From this hill, you can also enjoy 360-degree scenes around Phuket Town, Kata, Karon Beach and around Chalong Bay. Don't miss this opportunity.
Opening hours: 08:00 – 19:30
To reach this place can be by taxi, or if you really intend to exercise as well, can walk up the hill as far as 6 kilometers. Follow the road after Chao Fa Road East close from Chalong. Many hints of the red and the white. Turn to Soi Yodsane and follow the instructions up to the hill.
Phuket FantaSea
This also includes a place that you must visit when traveling to Phuket. It is an interesting show at the Elephant Kingdom Theater, combining dance, elephant attractions, circus, and magic, with the support of multimedia equipment that is packed very well. Blending tradition and fantasy take us on a journey of fascinating Thai legend. The performance space is comfortable and very large, can hold thousands of spectators.
Besides watching the show, you can also enjoy this 'The Ultimate Cultural Theme Park' amusement park, which is equipped with a playground, a traditional Thai temple, there is a Carnival Village Shopping Street and can also enjoy a popular buffet, The Golden Kinnaree. A perfect place to spend the night in Phuket. Open every day, except Thursday (but if Thursday is a national holiday, then open as usual), 17:30 – 23:30. Can order tickets that include shuttle transportation.
Phuket Old Town
Phuket Old Town is the old town of Phuket where there are various old buildings with a unique architectural style in Sino Portuguese style. You can find a variety of street markets and local eating places here, perfect for photography and culinary lovers. Many interesting spots around this old city, including the Wat Puttamongkon temple in Thalat Dibuk. The city center is easily reached by public transportation from various parts of Phuket.
Phuket Aquarium
Travel with your family to Phuket, it is very convenient if you stop by to invite children to visit the giant aquarium, where you can see the sea life of Phuket. This aquarium was founded in 1983, which is part of the center of marine biology Phuket or Phuket Marine Biological Center (PMBC). It is also a means to promote awareness to preserve the environment.
Those are the tourist attractions that must be visited when visiting Phuket, Thailand. Have a good trip to Phuket!