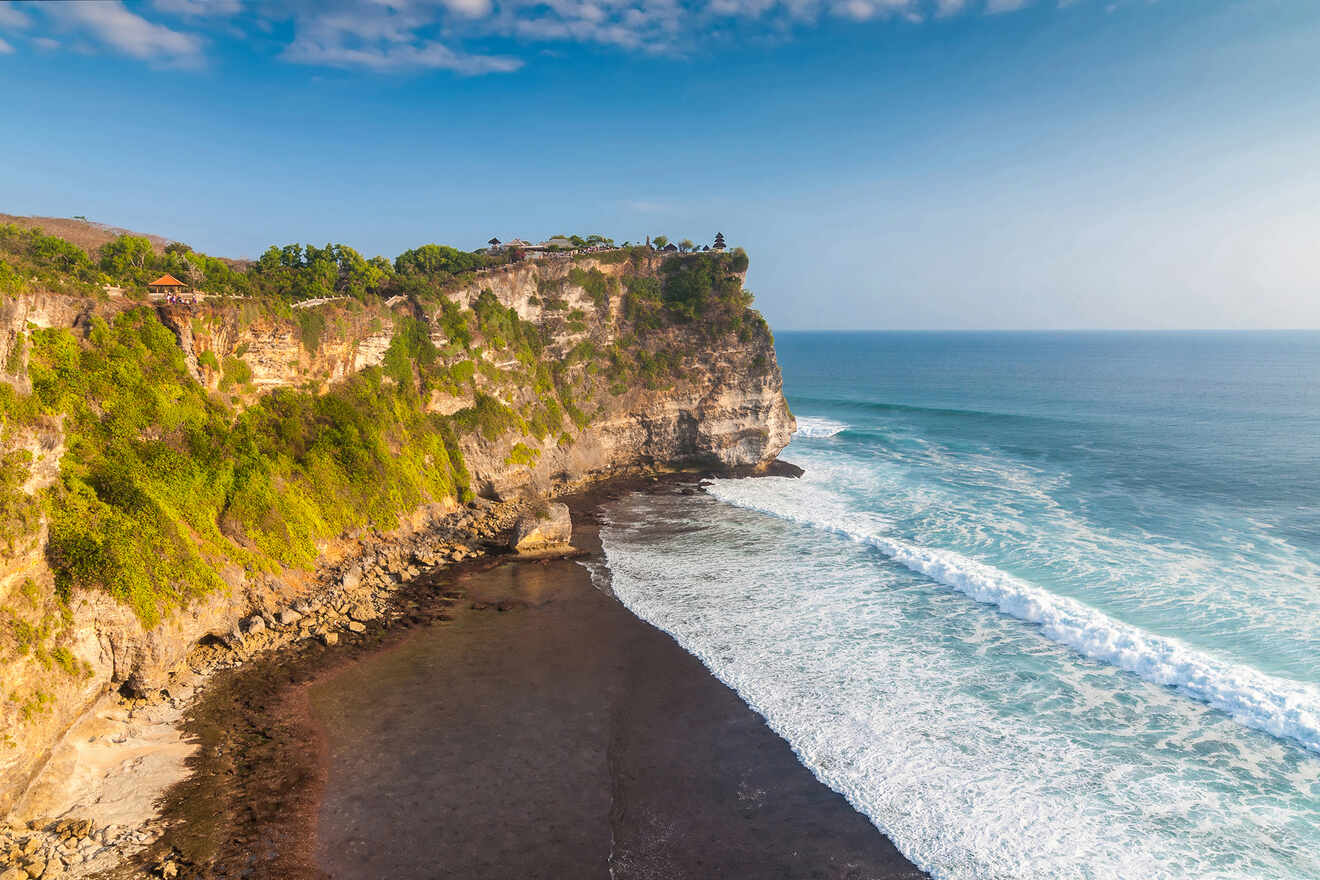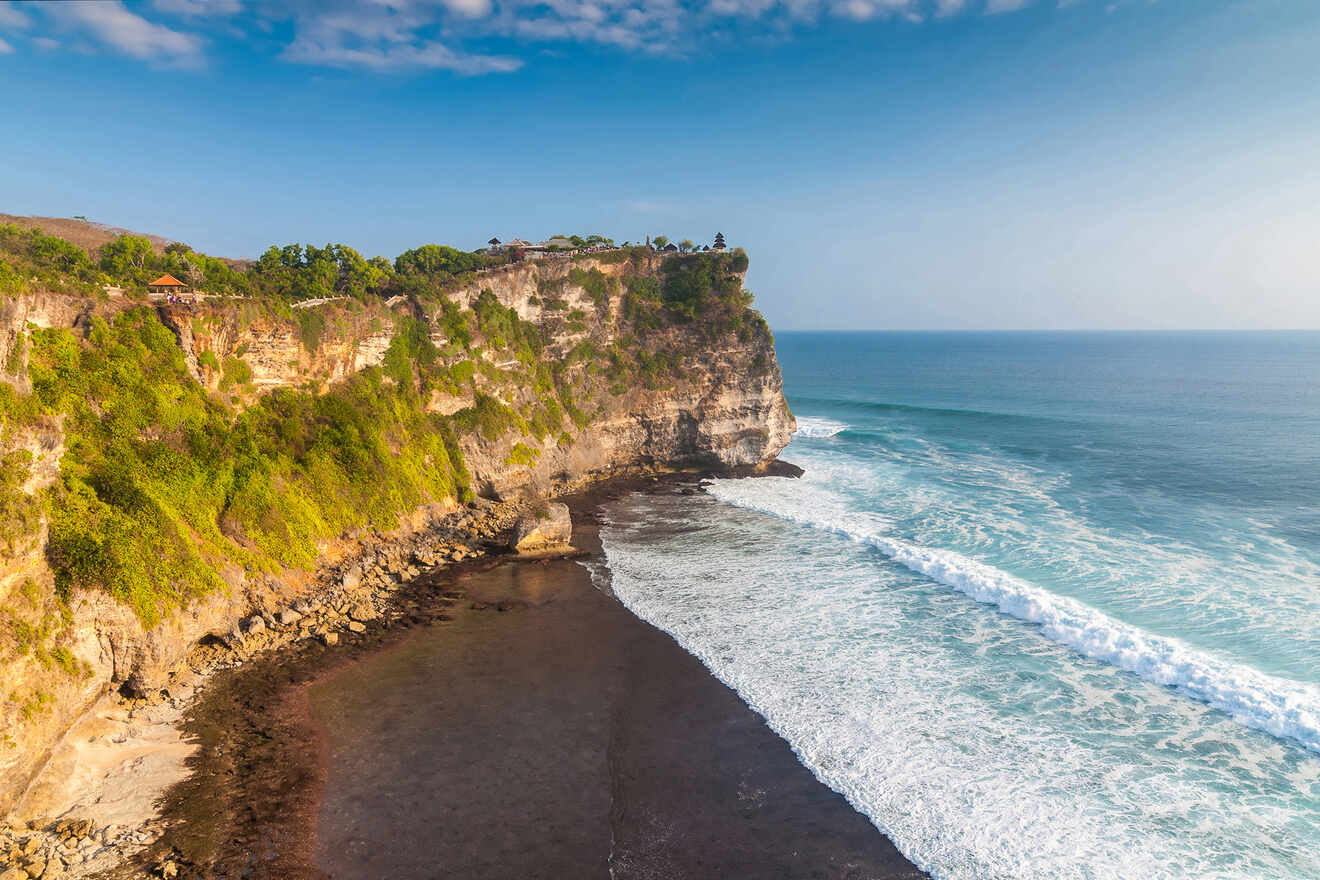 If you're the lucky traveler who is planning a trip to one of the best regions in Bali, Uluwatu, then come along and let's discover together the most amazing areas and hotels here!
Bingin Beach is the best area where to stay in Uluwatu! There you'll find stunning beaches, a great vibe, and awesome hotels! But don't worry, if everything is sold out there or you're looking for a different atmosphere, scroll down because I added 3 more areas perfect for surf lovers, people who love a great view and relaxation; Padang Padang, Balangan and Ungasan.
You probably know this by now, but Uluwatu, Bali, is one of the most popular locations in the world. Hotels sell out super fast here so I highly recommend booking yours in advance, and secure your spot.
Ready, everyone? Let's dive in!
If you are in a hurry
Below you'll find a short list of the best hotels where to stay in Uluwatu, all located in Bingin Beach, the top area in the region which is known for its amazing surfing and beaches:
airbnb
Tropical Villa
An Airbnb with amazing reviews
budget hotel
Alamanda Villas
Best affordable accommodation in the center
If you need a bit of help with the orientation, then check out the map below! It has all the areas where to stay in Uluwatu, that I'll talk about in this post:
1. Bingin Beach – where to stay in Uluwatu for the first time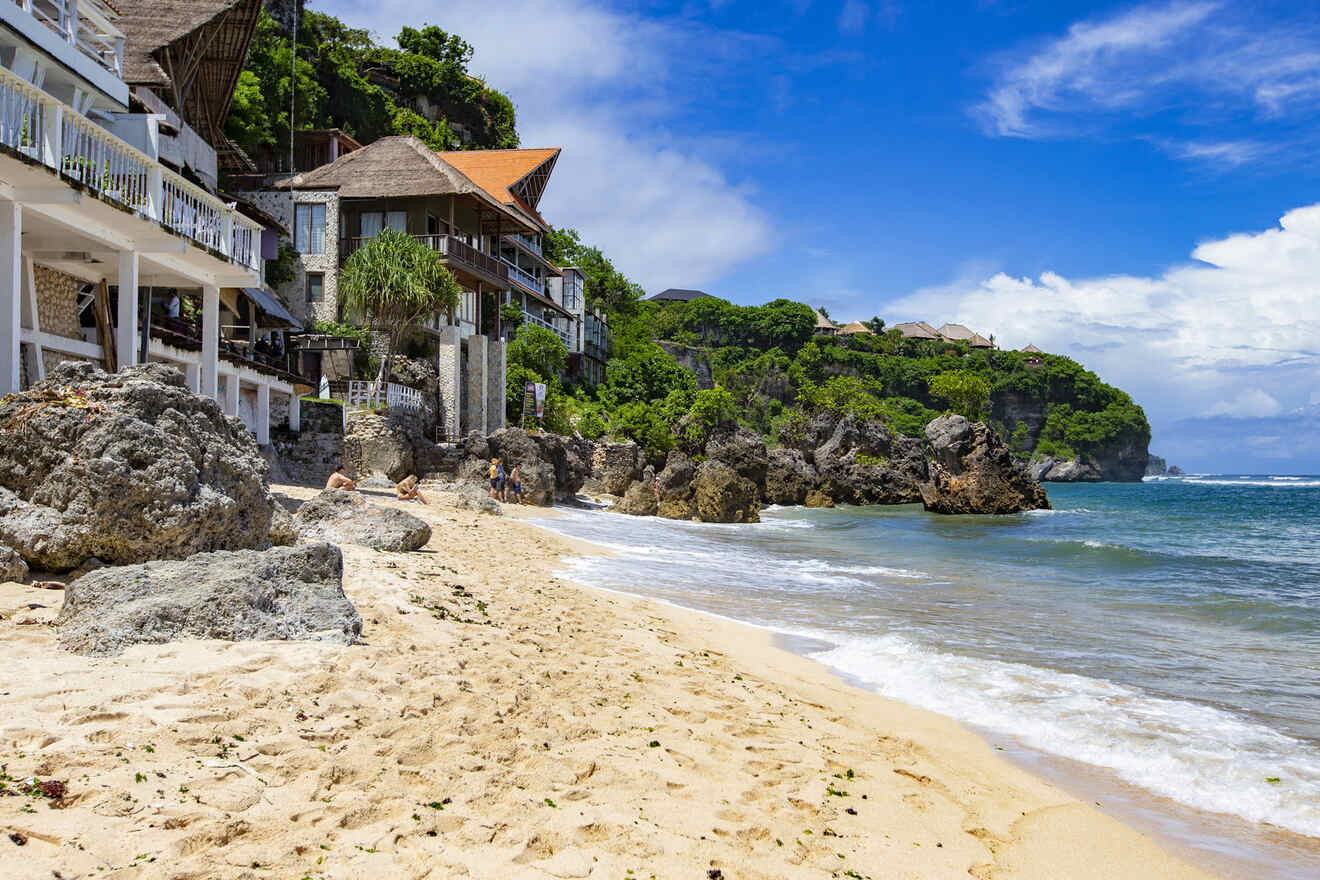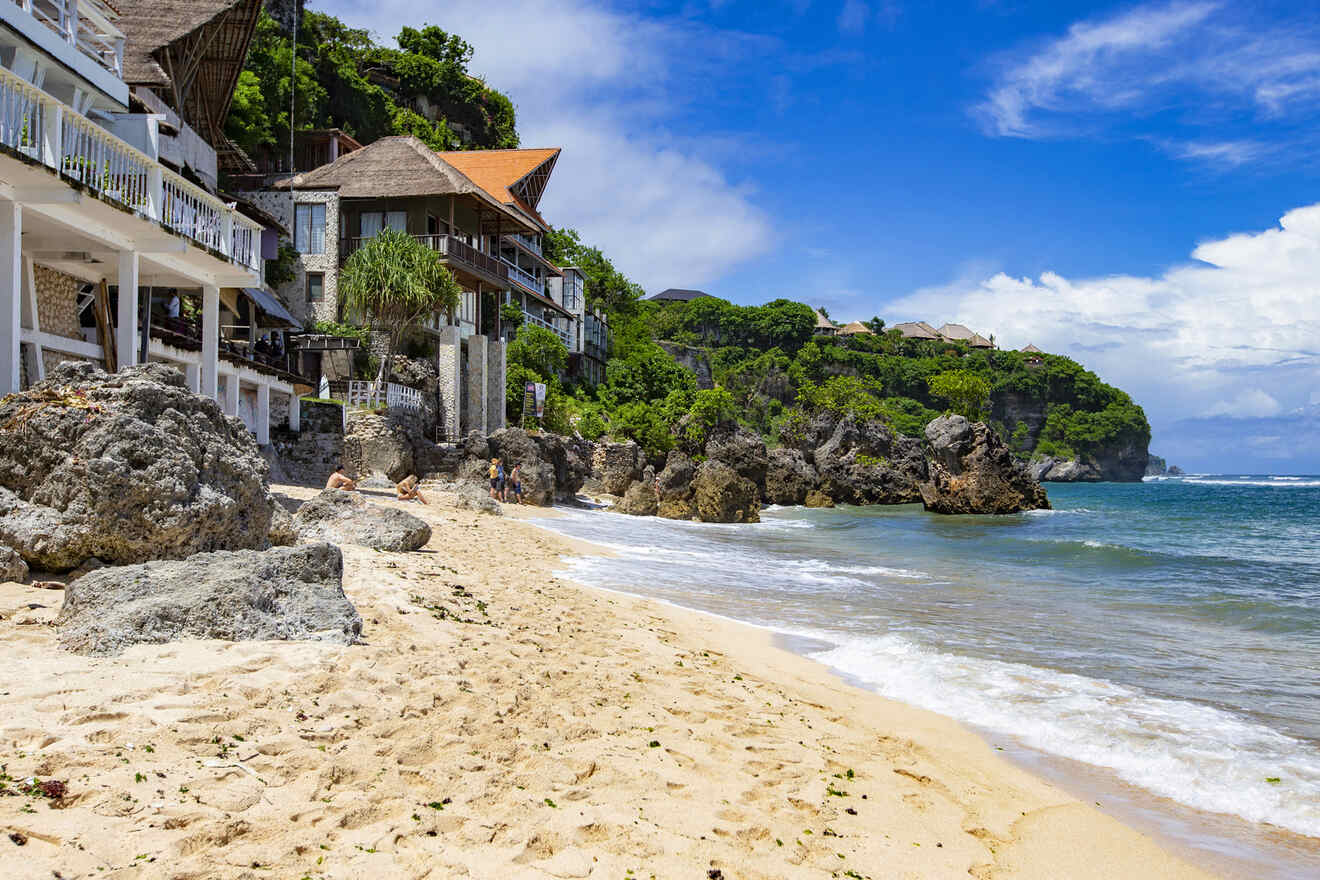 Welcome to one of the most amazing beaches in Uluwatu! Located in Pecatu Village, Bingin Beach is famous for its untamed waves that all surfers love and come here to enjoy as much as they can!
If this is your first trip to Uluwatu then I'd definitely look for accommodation near Bingin Beach! Why? Well even if you're not an avid surfer there is lots to discover around including more amazing beaches and secluded spots!
There are also a few restaurants, and bars (and of course surfboard rentals) along the beach which offer lots of yummy dishes and drinks that you'd only find in Bali. I'd definitely recommend going to one of those places to catch the sunset. Since they're a bit elevated the views are breathtaking!
And don't forget that Uluwatu is one of the most popular regions in Bali, especially with tourists, so I highly recommend booking your hotels in advance, because trust me, they will sell out super fast!
Luxury hotel
Anantara Uluwatu Bali Resort
Villas with a private pool, amazing views of the Indian Ocean, and delicious food! Yep, it sounds like Bali to me! This amazing place is perfect for your stay in Uluwatu! It even has a fabulous infinity pool where you can watch the sunset and a spa center!
Other accommodation options in Bingin Beach
Mid-Range
Incense Impossible Beach
The Balinese-styled hotel that offers a swimming pool, spacious suites, and spa services
Budget
Alamanda Villas
Affordable bungalows that have everything you need including a pool, a garden, and a terrace
Airbnb
Enjoy your stay in Uluwatu at this modern villa that offers breakfast, a private pool, and free parking
Things to do in Bingin Beach
Explore the secluded spots on the beach
Watch a scenic sunset at Juniati Warung
Rent a surfboard and ride the waves
Visit the Uluwatu Temple
Enjoy a yummy meal at Bingin Bagus Seafood BBQ
2. Padang Padang – best place to stay in Uluwatu for surfing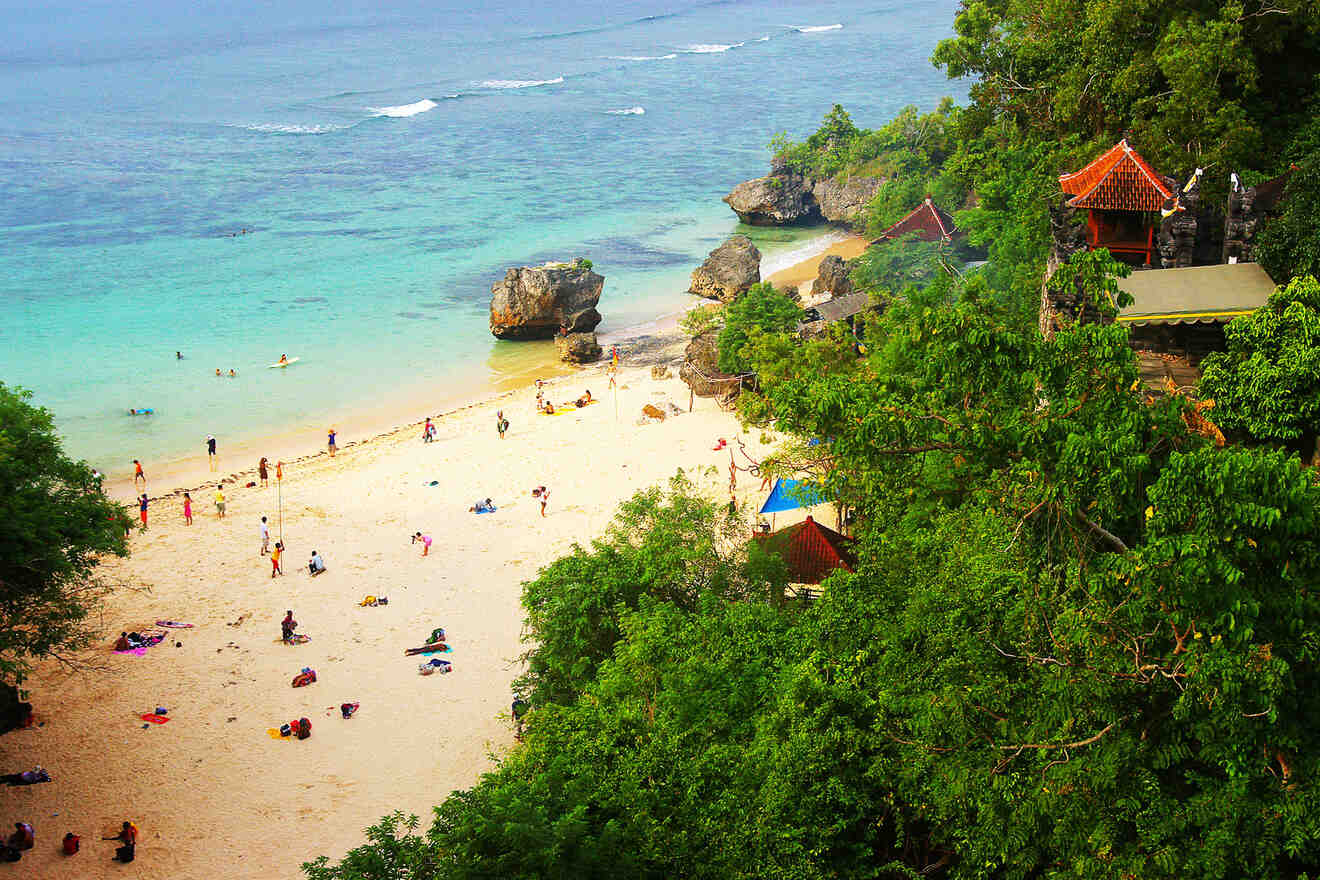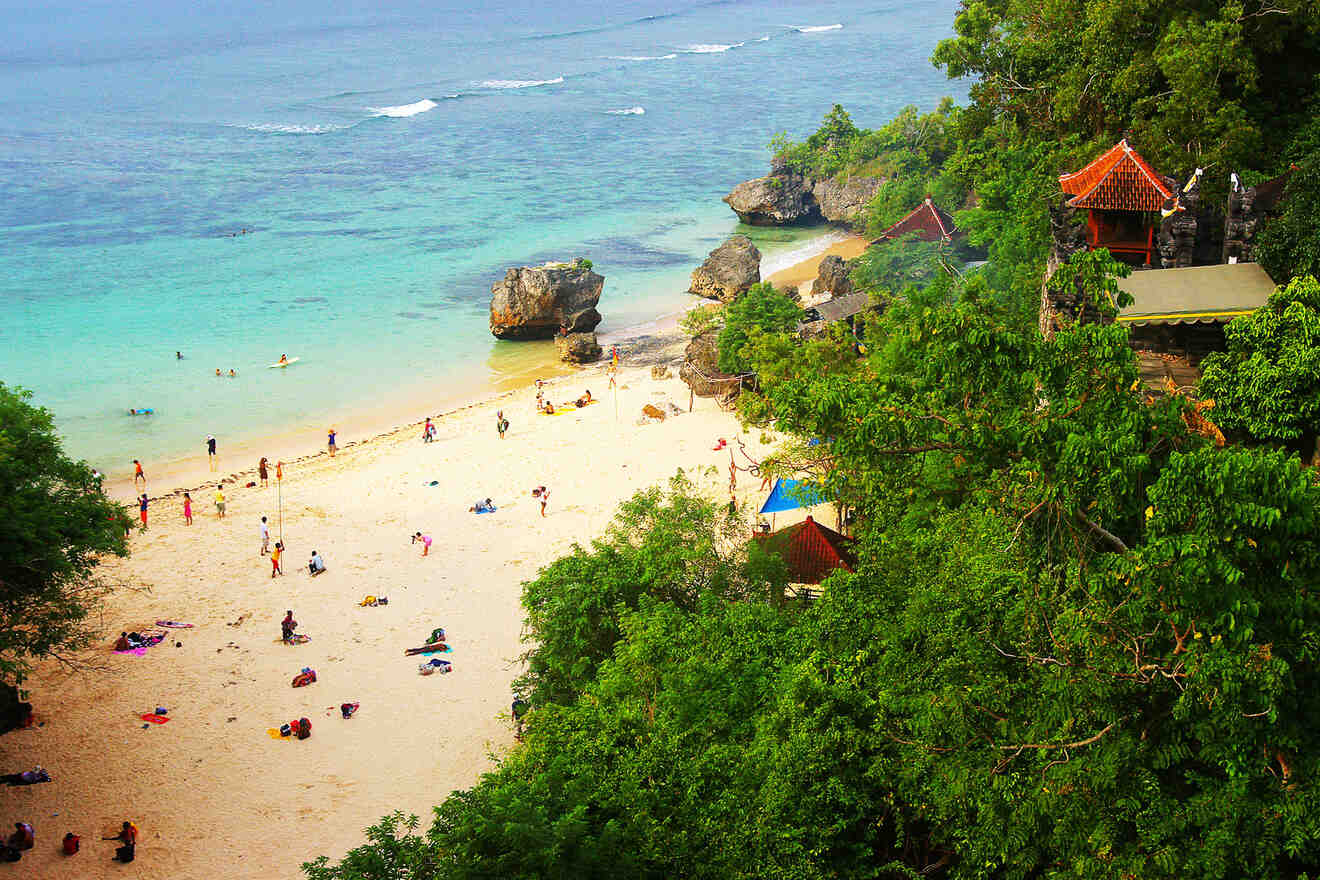 Who's ready to ride some insane waves? Uluwatu has long been known as one of the best places for surfing in Bali, with places like Padang Padang Beach that offer incredible waves.
Padang Padang Beach even hosted some international surfing events like the Rip Curl Cup!
But trust me, the beach is so much more than a good surfing spot! The exotic landscape will make you fall in love with this beach and want to return as soon as possible, to chill on the soft sand and admire the unique rock formations.
Did you know that Padang Padang Beach was actually the place where Julia Roberts and Javier Bardem filmed one of the scenes for the famous movie "Eat, Pray Love"!
It was actually the place where they met, but if you're looking for the bar you won't find it as they made a set just for the movie. But if you walk along the beach you may recognize some spots.
Anyhow, let's get back to reality now! As Padang Padang Beach is a popular place with surfers there are a few spots where you can rent your surfboard and of course lots of places to grab a drink or something to eat.
Luxury hotel
Suarga Padang Padang
Wake up to a breathtaking view of the Indian Ocean at this resort that offers villas with a pool! Suarga Padang Padang is set atop a cliff between the palm trees which makes every sunset look so special! I hope you're ready to get pampered at the spa and take some yoga lessons because they've got plenty of that here!
Other accommodation options in Padang Padang
Mid-Range
The Room
Enjoy your holiday in this amazing beachfront hotel that has a restaurant, a pool and a garden
Budget
Kutuh Manak Guest House
A lovely place in Uluwatu that has an outdoor pool plus rooms with comfortable beds, and a private bathroom
Airbnb
The perfect villa for 2 guests which comes with a kitchen, a free parking space and an outdoor pool
Things to do in Padang Padang
Ride the insane waves
Admire the unique rock formations
Take a trip to Uluwatu Temple
Grab a cocktail at Dugong Restaurant & Lounge
3. Balangan – where to stay in Uluwatu for the best views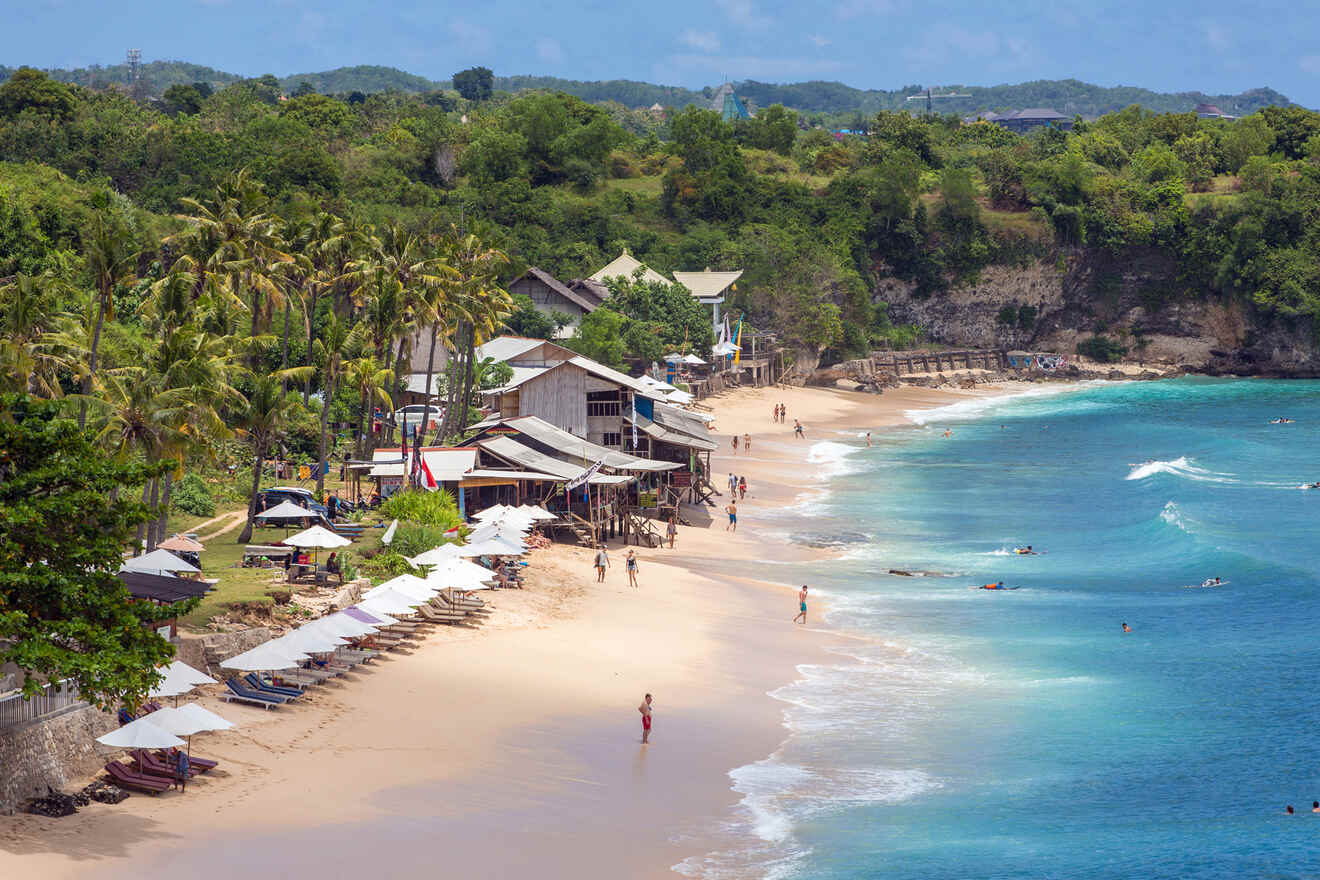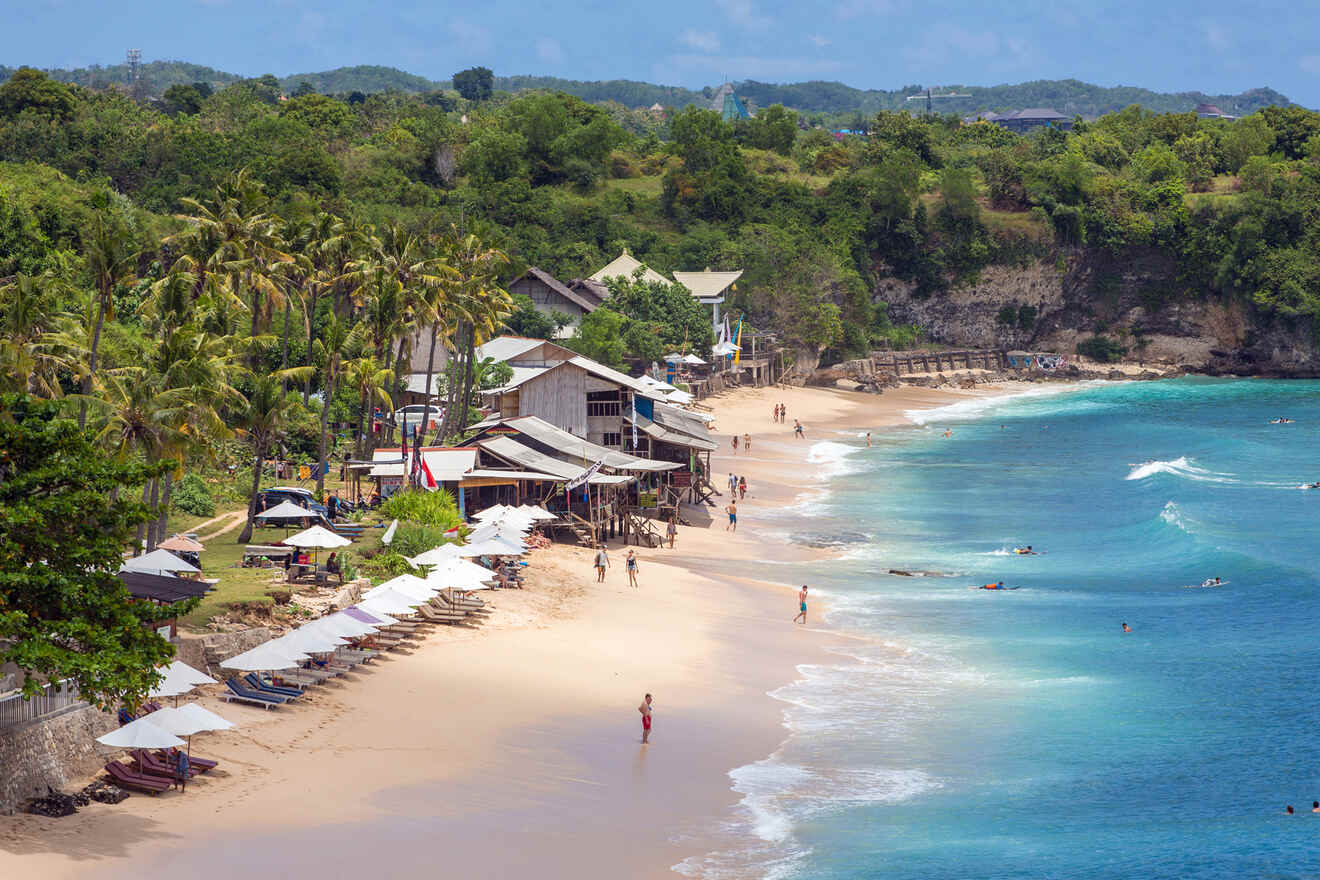 There's no better spot to catch a sunset than Balangan Beach! This is one of the best places to stay in Uluwatu for anyone who wants to top up their Instagram game and admire Uluwatu's beauty!
Balangan Beach will definitely make you feel like you want to move to Bali forever! I'm sure many people probably thought that at least once, after chilling on the sand or exploring the rocky formations.
Whether you want to relax, ride the waves or simply walk around the beach, Balangan Beach is perfect for any of those activities.
There's even a small temple, which has the same name that I definitely think you should check out. And of course, the usual bars and restaurants where you can enjoy some drinks after a day of sunbathing and swimming.
Luxury hotel
Jumeirah Bali
Start your day with a swim in your private plunge pool at this resort which offers spacious villas with a unique Balinese decor. The accommodation offers a complimentary breakfast in the morning, yoga classes and a spa center where you can unwind after a day of surfing and exploring Uluwatu, Bali.
Other accommodation options in Balangan
Mid-Range
Adinda Balangan Beach Villa
This modern villa has lovely decor, lots of space, a private kitchen, and an outdoor swimming pool
Budget
Hill Dance Bali
One of the best places to stay in Uluwatu for the budget which comes with a spa center, 2 pools, and a garden
Airbnb
It a simple yet well-equipped house that offers 2 rooms, beach access, and a shared pool
Things to do in Balangan
Visit the Balangan Temple
Enjoy a yummy lunch at Froggy warung
Catch a scenic sunset on the beach
Learn how to surf from a professional
Grab some coffee at coconut cafe
Stretch your muscles at Balangan Yoga and Love studio
4. Ungasan – best place to stay in Uluwatu for relaxation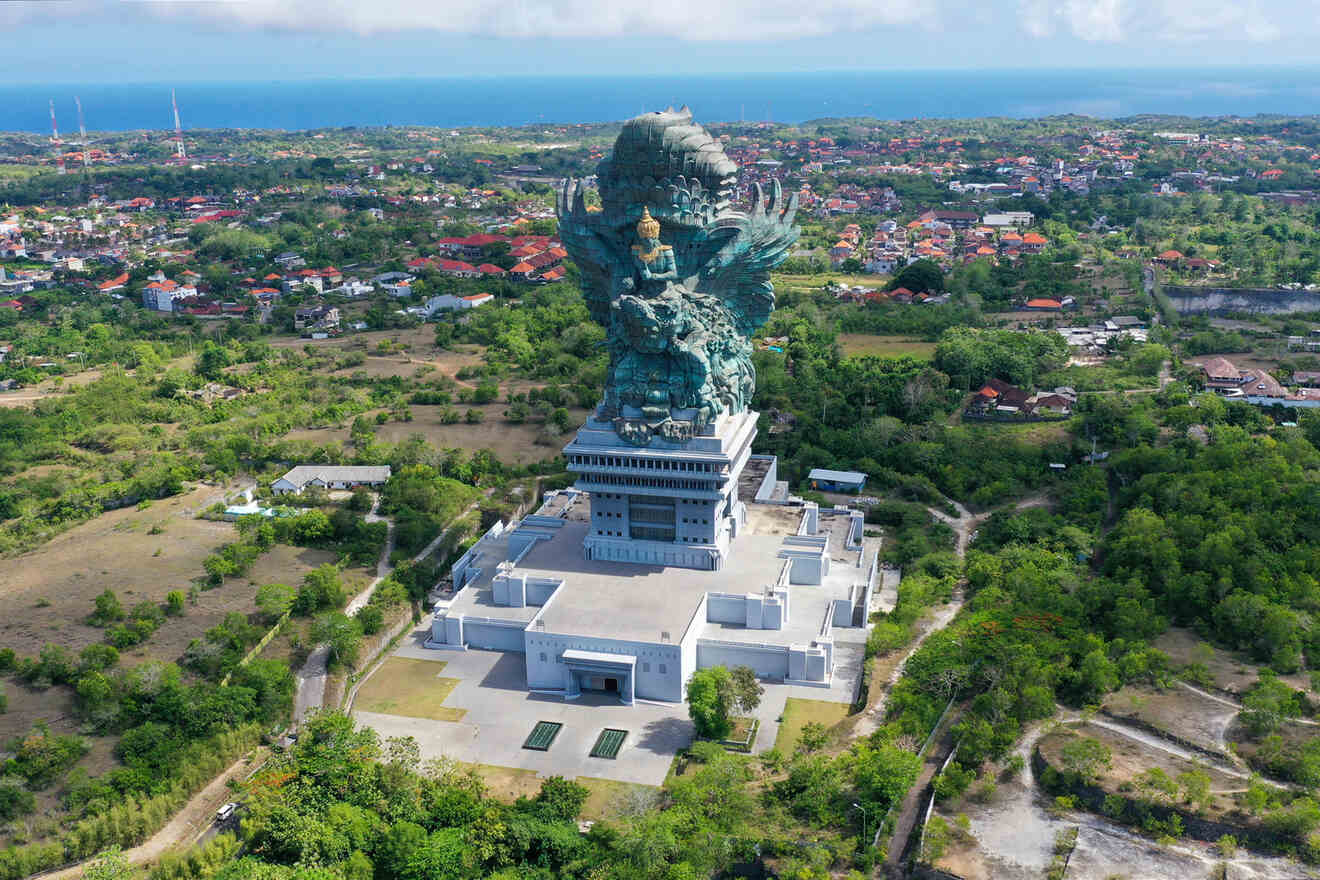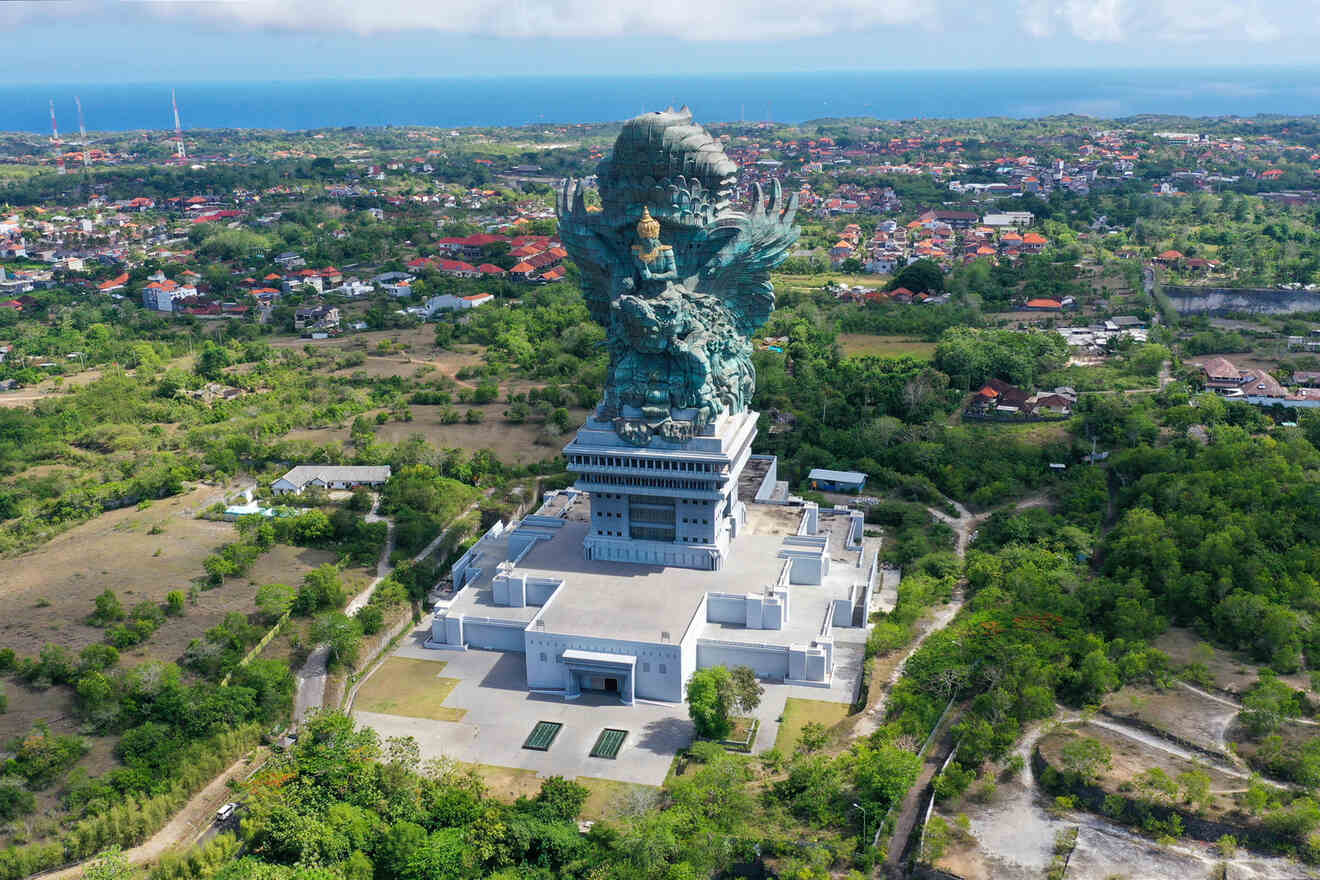 If you're looking for a place where you can relax, unwind and maybe escape some of the crowds in Uluwatu, Bali then I think Ungasan is for you!
This remote area is packed with scenic spots, beautiful beaches and lots of other places to discover.
Ungasan is also home to some of the most exclusive clifftop resorts in Uluwatu. Oh yes, here you'll find some really unique accommodations that offer incredible views of the Indian Ocean.
There are also lots of cool attractions in this area. From the incredible beaches (which are some of the best ones on the island) to the parks and even golf clubs.
So pack your entire swimsuit collection and get ready for some beachy days and fun!
Luxury hotel
The Ungasan Clifftop Resort
This cliff-edge resort is set above the Indian Ocean (yep the views are just as fabulous as you can imagine) and it offers a private beach area and an infinity pool. Get in the Bali mood, with a long spa sesh and some yummy cocktails by the pool, or maybe with a quick tennis game! Your choice!
Other accommodation options in Ungasan
Mid-Range
Nagara Boutique Hotel
Loving the boho decor at this hotel that has a swimming pool, a restaurant and family rooms!
Budget
Vertical House Bali
Tucked away between the trees, this wooden-made home offers a kitchenette, free wi-fi, and a terrace
Airbnb
This lovely bungalow has wooden furnishings, a stunning garden view, and a shared pool
Things to do in Ungasan
Visit the Garuda Wisnu Kencana Cultural Park
Enjoy the sun on Melasti Beach Ungasan
Take a trip to visit Uluwatu Temple
Spend a fun day at Bukit Pandawa Golf & Country Club
FAQs about hotels in Uluwatu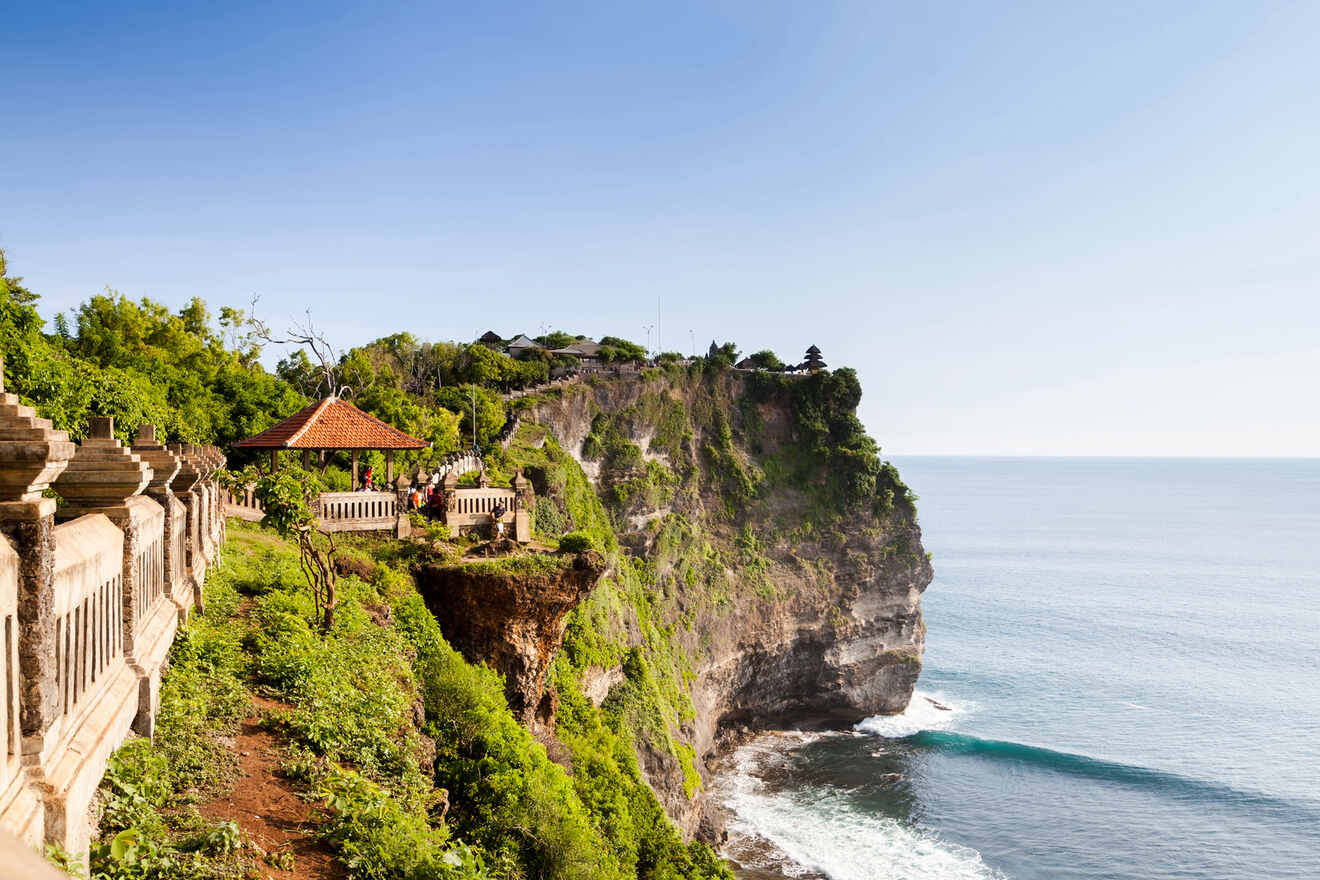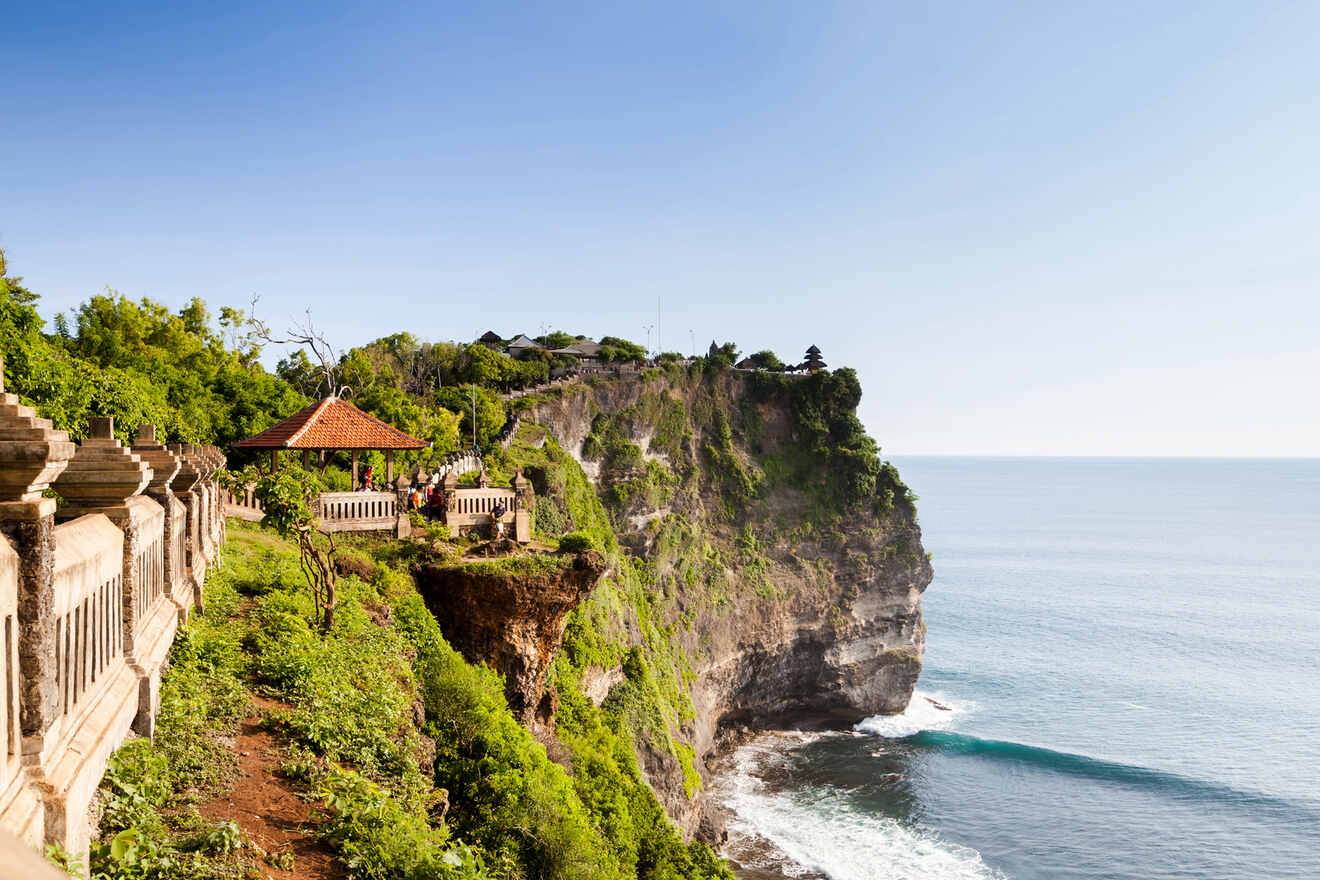 ? Which is the best location to stay in Uluwatu?
One of the best locations where to stay in Uluwatu, Bali is Bingin Beach. This place is perfect for surfing, chilling on the beach and it has great hotels like Anantara Uluwatu Bali Resort.
?️ Which are the top Uluwatu hotels with private beach?
The Ungasan Clifftop Resort is one of the best hotels where to stay in Uluwatu, which has a private beach. The accommodation has some great reviews and other fabulous facilities like an infinity pool.
? Is it worth staying in Uluwatu?
Yes! Uluwatu is an amazing region in Bali that is absolutely filled with scenic beaches and it offers many clifftop locations and a laid-back vibe. 
? Which is better, Ubud or Uluwatu?
Both locations are amazing and have a chill atmosphere. However, Ubud has more green areas and jungles while Uluwatu is mainly known for its beaches and rocky cliffs. 
Conclusion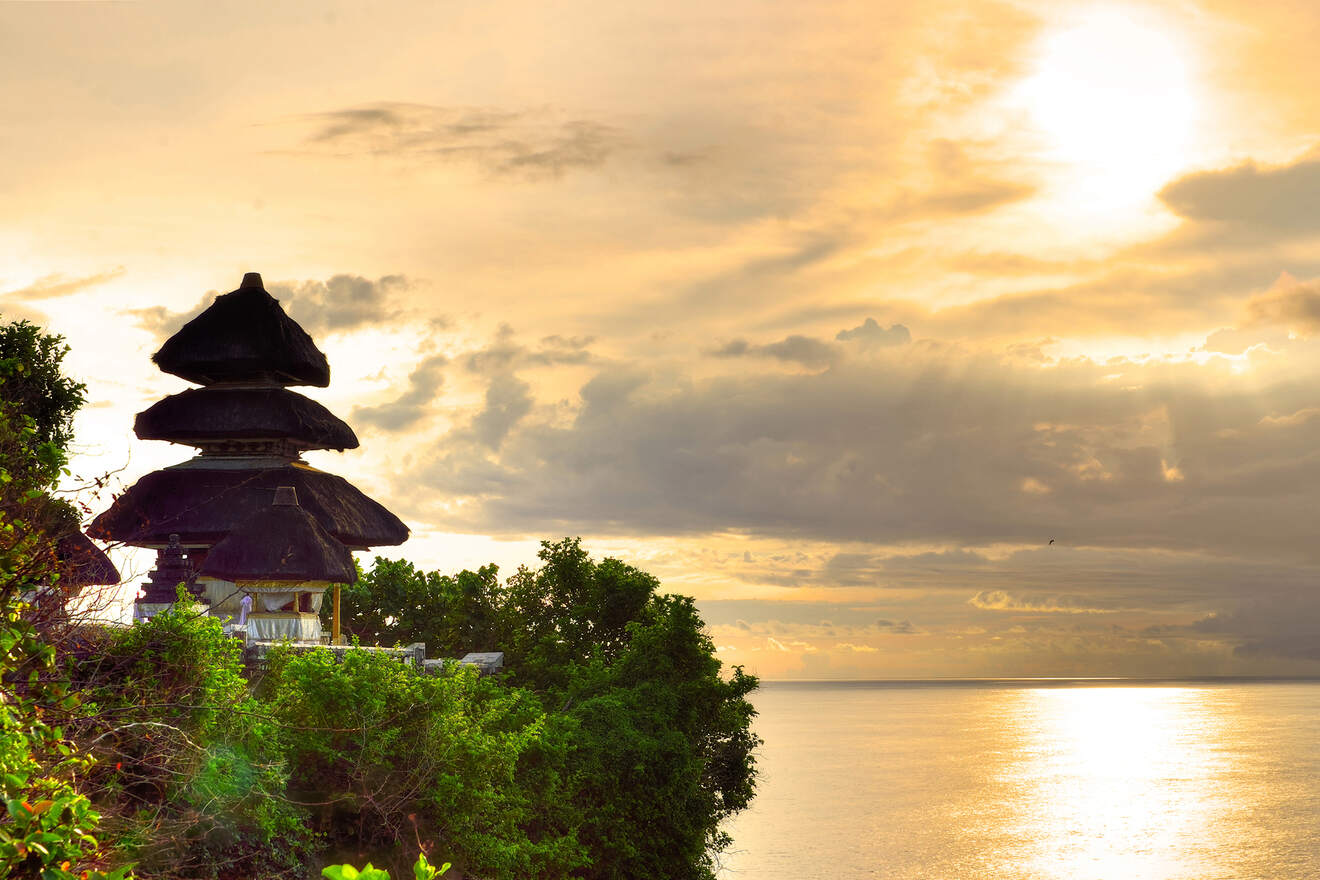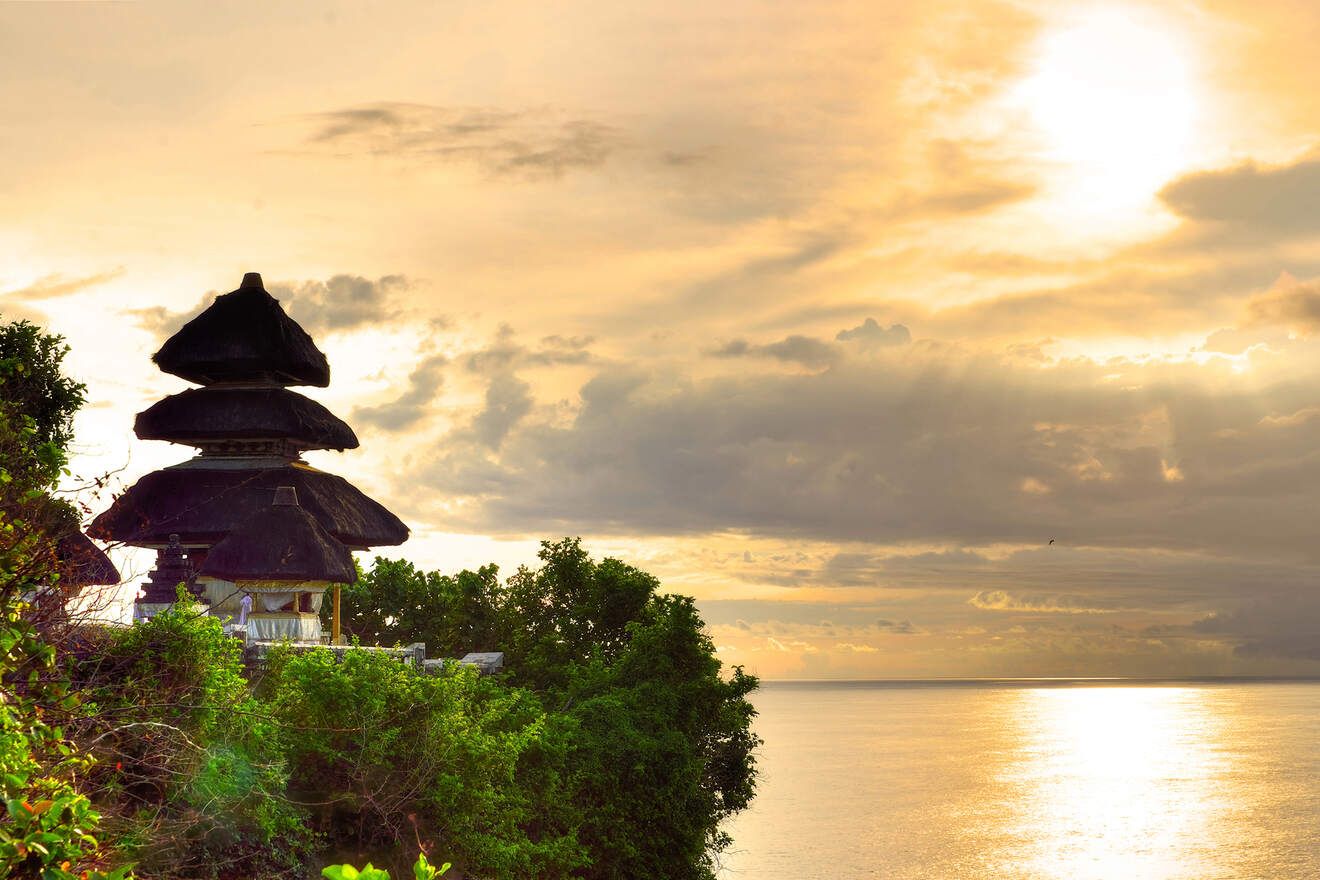 What a place! I can already hear the ocean calling us, so we better answer! But before we do that, let's do a quick recap.
This post has the best areas where to stay in Uluwatu, Bali, plus a list of hotels and things to do for each.
I know picking just one hotel from such an amazing list is hard work. But hey, you know I like to help my readers as much as I can. That's why I've listed below my 2 favorite hotels, both located in Bingin Beach:
Anantara Uluwatu – This fabulous beachfront hotel offers a dreamy infinity pool, a spa center with many facilities and rooms with a private hot tub
Incense Impossible Beach – Balinese-styled accommodation that comes with an outdoor pool, a bar and a terrace
There you go! Now I'm sure you'll feel much more confident! Just remember that Uluwatu is one of the best areas to stay in Bali, and a major surfing destination, so all the great hotels will disappear so fast if you don't book early!
Well, everyone, I hope you're ready to move to Bali for a few months because that's what you'll want to do after your holiday in Uluwatu!
And if you've got any questions on that or anything else just leave me a comment below and I'll answer ASAP! And don't forget you can always check our other posts on this fabulous destination if you need some inspiration!
Enjoy all the surfing!
Happy Exploring,
Victoria
---
Pin it for later!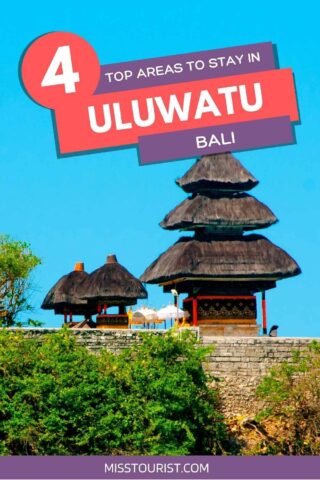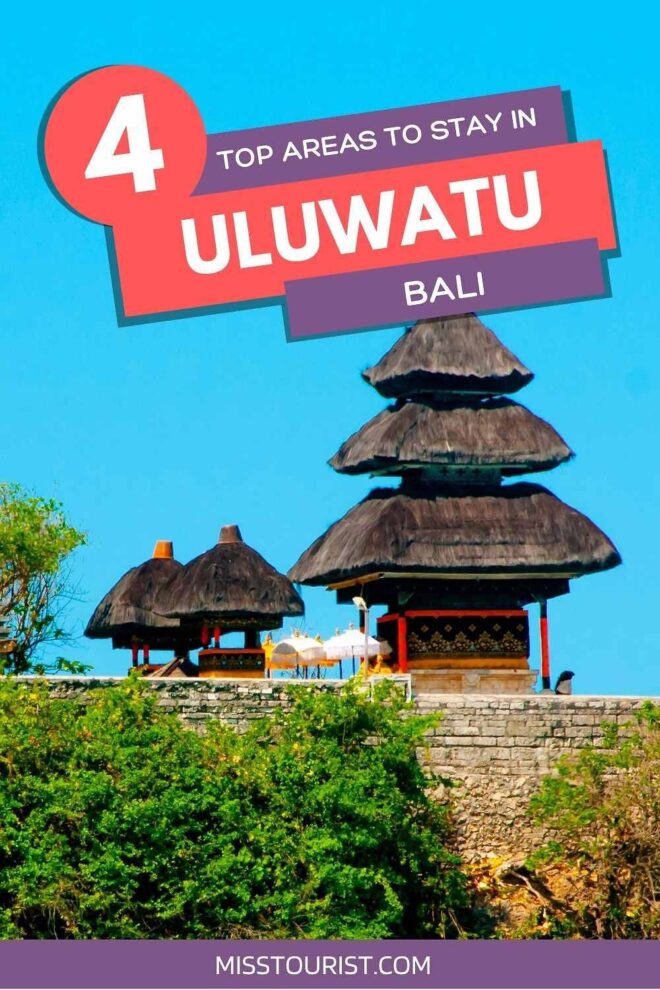 Pin it for later!