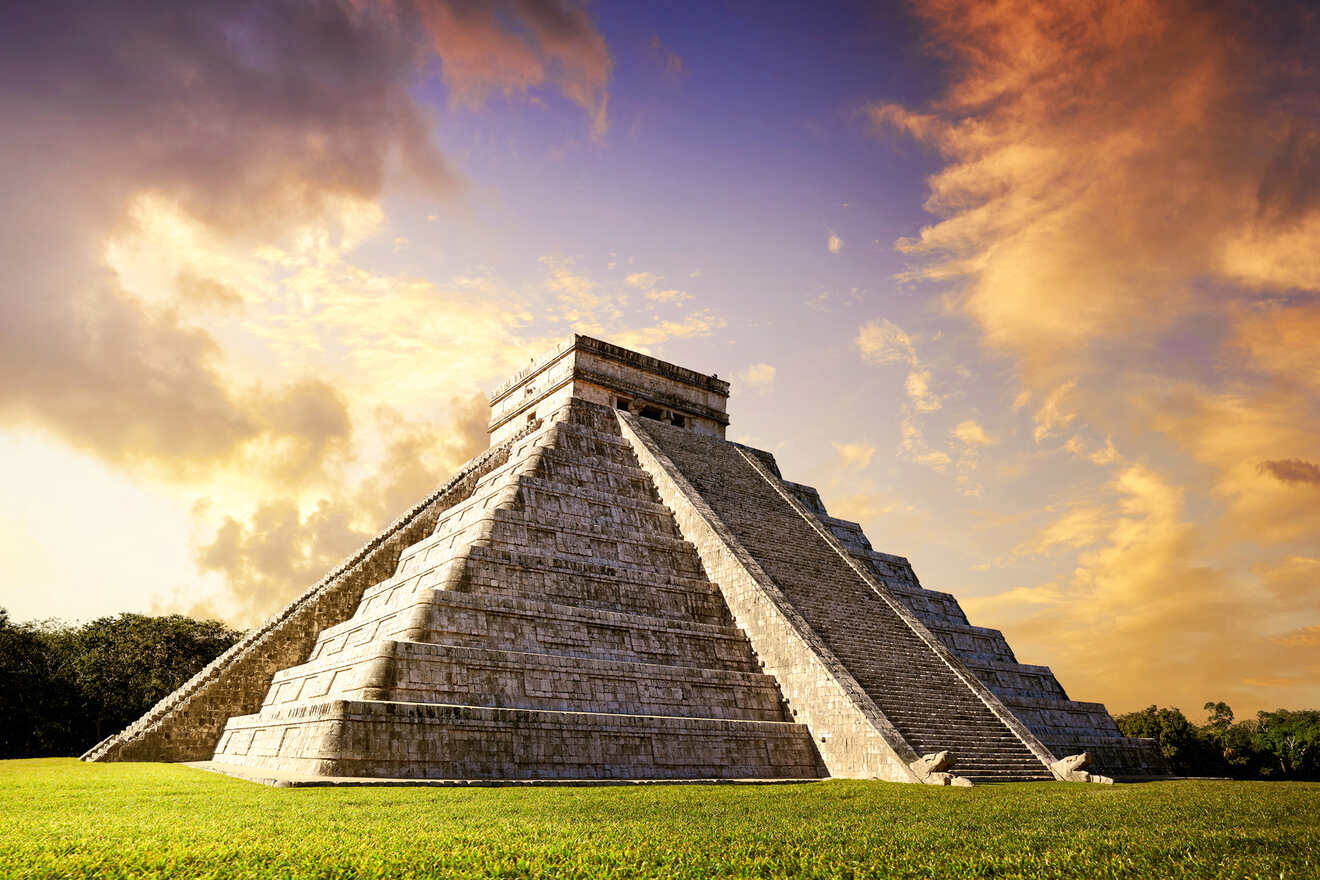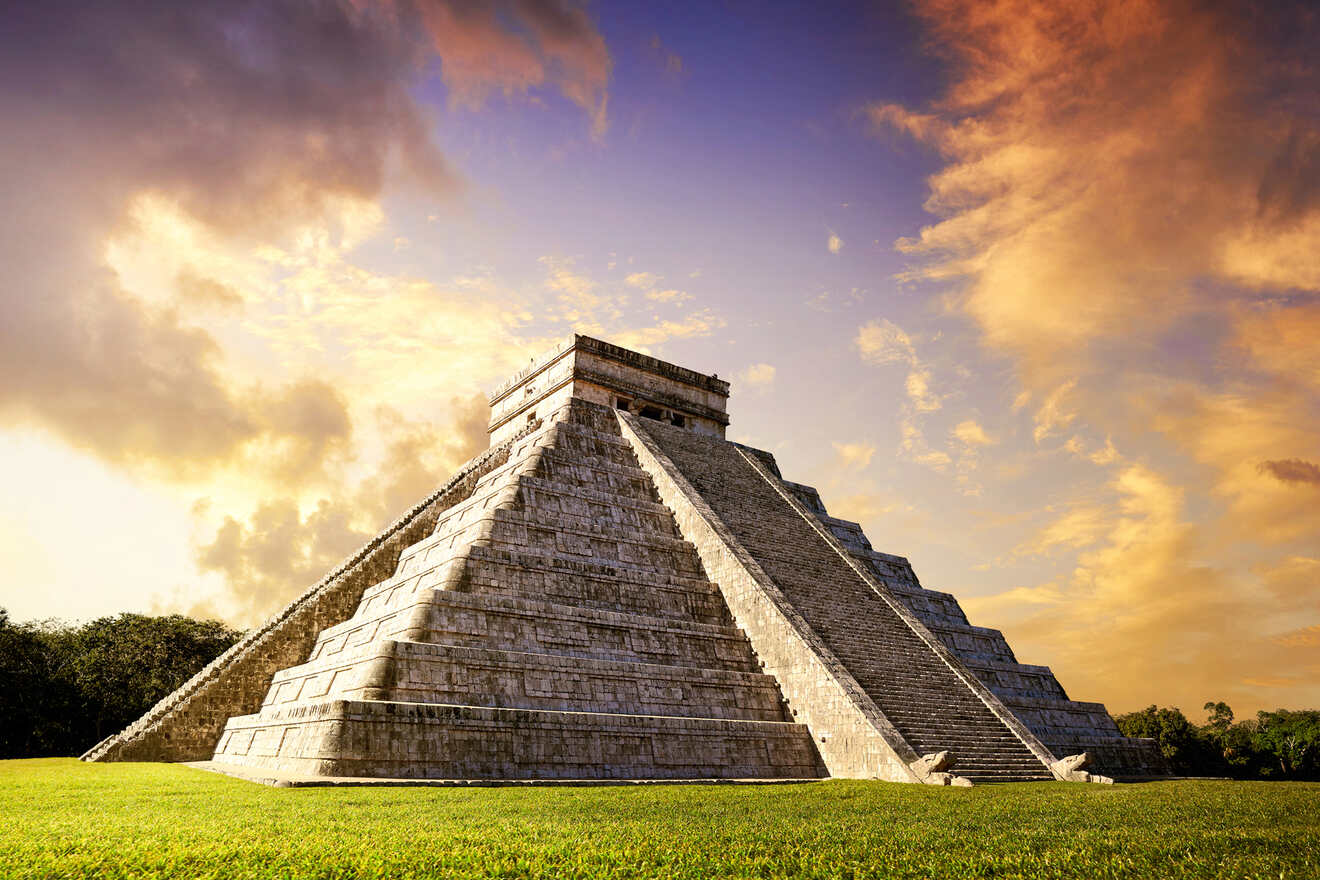 Mexico is one of my favorite countries ever, rich in culture, stunning nature, beautiful beaches, and parties… But it is so big (it has 32 states!) that it can be very hard to decide where to spend your holiday, especially if you don't have much time!
Since I've just lived there for 6 months, I decided to help you with your choice and made this guide to the best cities where to stay in Mexico, including something for any taste and accommodations for any budget.
If it is your first time in the country, Mexico City is definitely the best city to stay in Mexico. Otherwise, Playa del Carmen is perfect for couples, Cabo San Lucas for upscale parties, Puerto Vallarta for watersports, and Oaxaca if you want to experience the real Mexican culture.
Are you ready to explore them all in more detail? Then don't waste any more time and start reading, but remember to book your favorite accommodation some months in advance, so you don't risk losing the spot!
Ready? Let's go!
If you are in a hurry
Don't have time to read the whole article? Then check out this quick list of the best hotels in Mexico City, divided by price range:
luxury hotel
InterContinental Presidente
airbnb
Two-story apartment
An Airbnb with amazing reviews
budget hotel
Ayenda Frida Costa Azul
Best affordable accommodation
Here's a map of the best cities to stay in Mexico, so you can easily understand where they are located:
1. Mexico city – where to stay in Mexico for the first time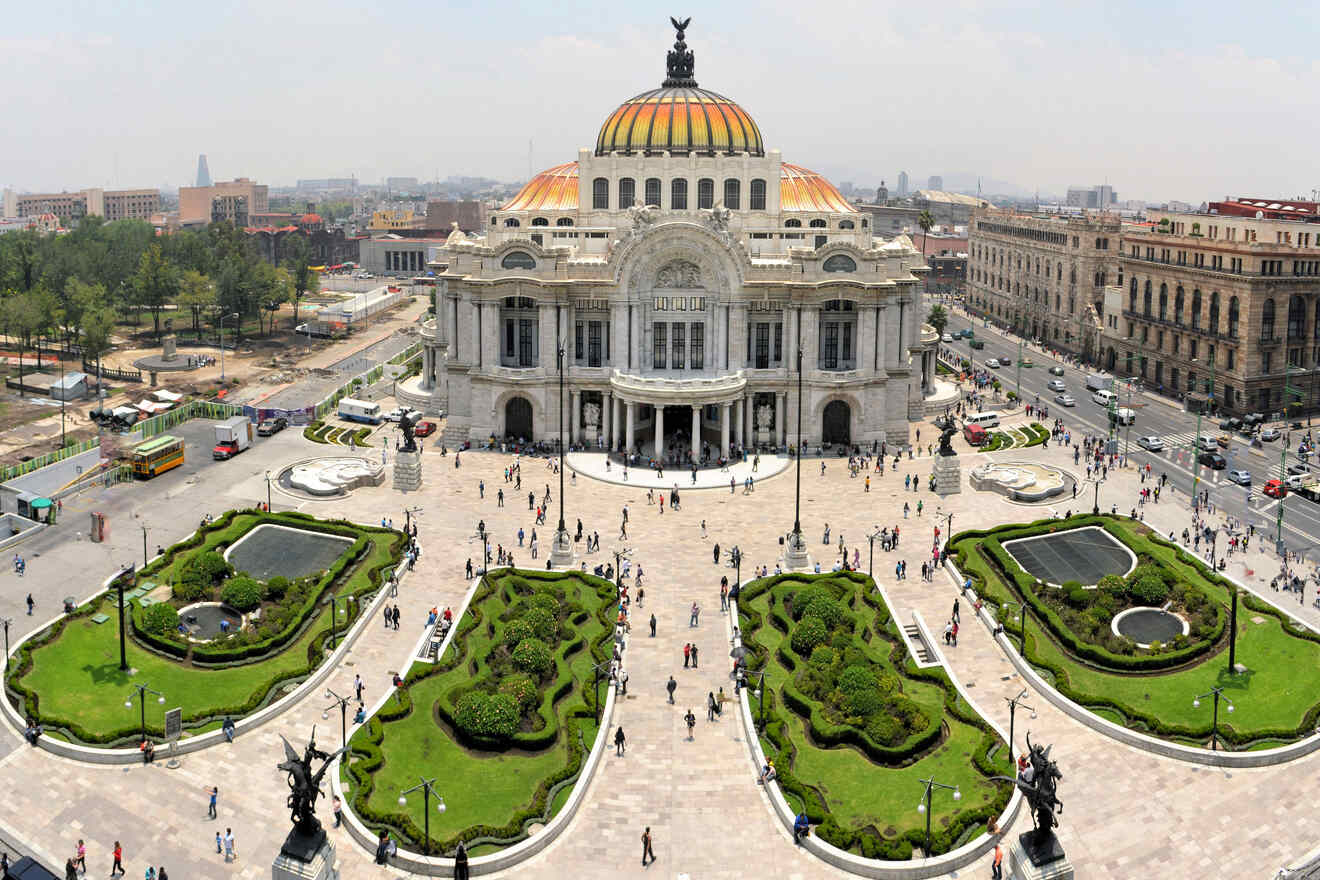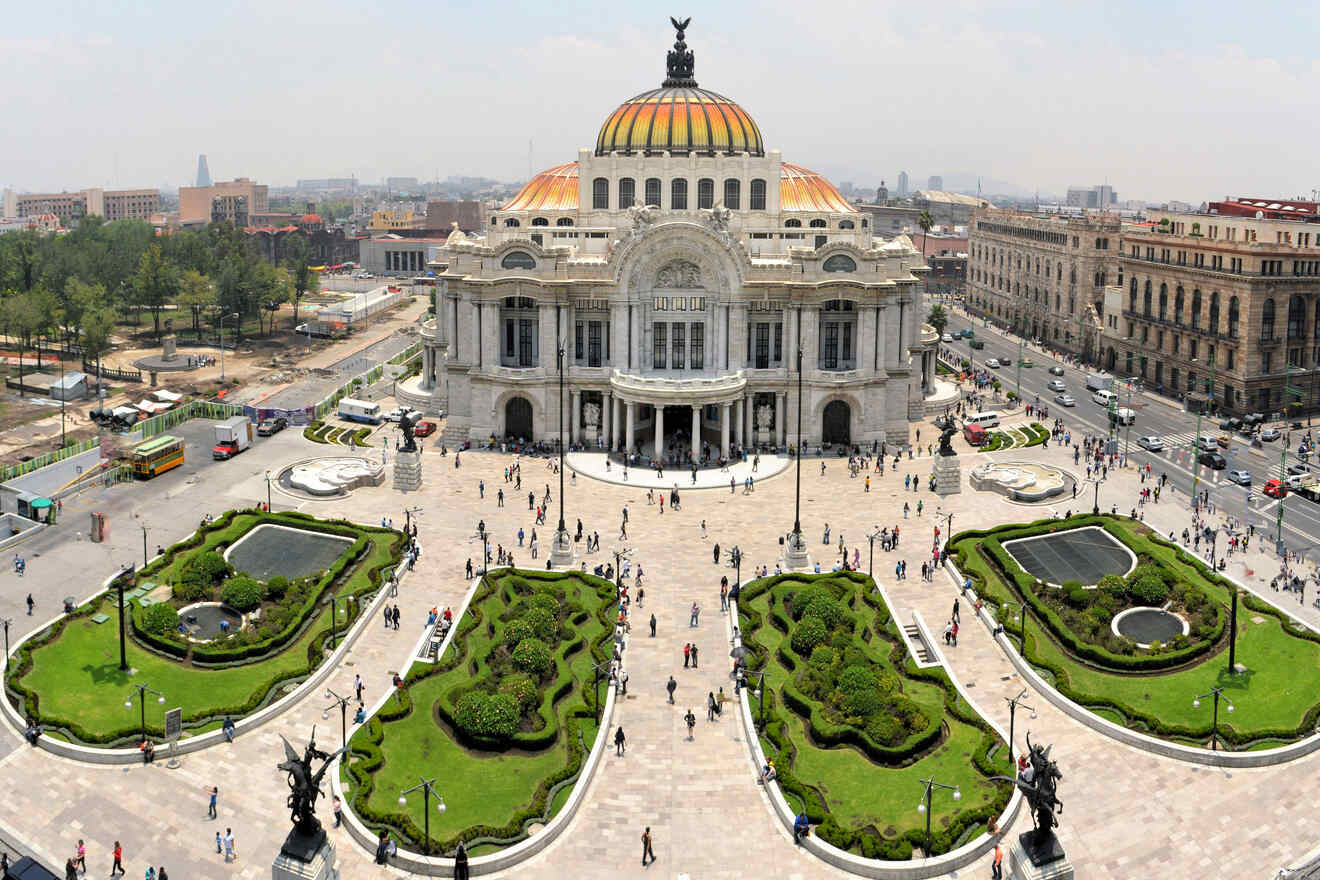 If it's your first time in the country, what better place to stay in Mexico than its vibrant capital Mexico city?
Being the biggest city by population in North America, Mexico City has so much to offer, from local markets selling any kind of food and souvenirs to world-class museums, cultural sites, green parks, street art, and, of course, crazy nightlife… So any taste here will be satisfied!
You will need to decide what to focus on because you'll never be able to do everything. Still, some time must be saved for the Centro Historico with its National Palace and Metropolitan Cathedral, and the Coyoacan area, hosting the Frida Kahlo Museum!
Other cool areas to explore in Mexico City are the hipster neighborhood of Roma, or the Condesa district, offering both cultural attractions like the Chapultepec Castle and the Museum of Modern Art and parties until very early hours in the morning… Get ready to dance the night away!
But there are so many other areas in this huge city, so if you want to check them all out, read this post with the top neighborhoods to stay in Mexico City!
And if you have enough time during your holiday, I suggest you extend your trip to San Miguel de Allende, a picturesque town with baroque Spanish buildings, a big art scene, and many cultural festivals, located only 1-hour flight from Mexico city!
Luxury hotel
InterContinental Presidente
This luxury hotel is located in the cultural Polanco district, just minutes from the National Museum of Anthropology, and features all the amenities you need! Here you will choose from 6 on-site restaurants, have an intense workout in the state-of-the-art fitness center, and relax right after with an in-room massage or a drink from the room's refreshment center. Also, the rooms are amazing, all offering views of the city or the park… Check them out!
Other accommodation options in Mexico City
Mid-Range
Barceló Mexico Reforma
Check out this great hotel featuring a swimming pool, an on-site bar and restaurant, and free private parking
Budget
Ayenda Frida Costa Azul
If you are traveling on a budget, this cheap hotel is for you, centrally located in the historic city center
Airbnb
This beautiful apartment has all the comforts of home like a fully equipped kitchen, dining room, and private bathroom!
Things to do in Mexico City
2. Playa del Carmen – the best place for couples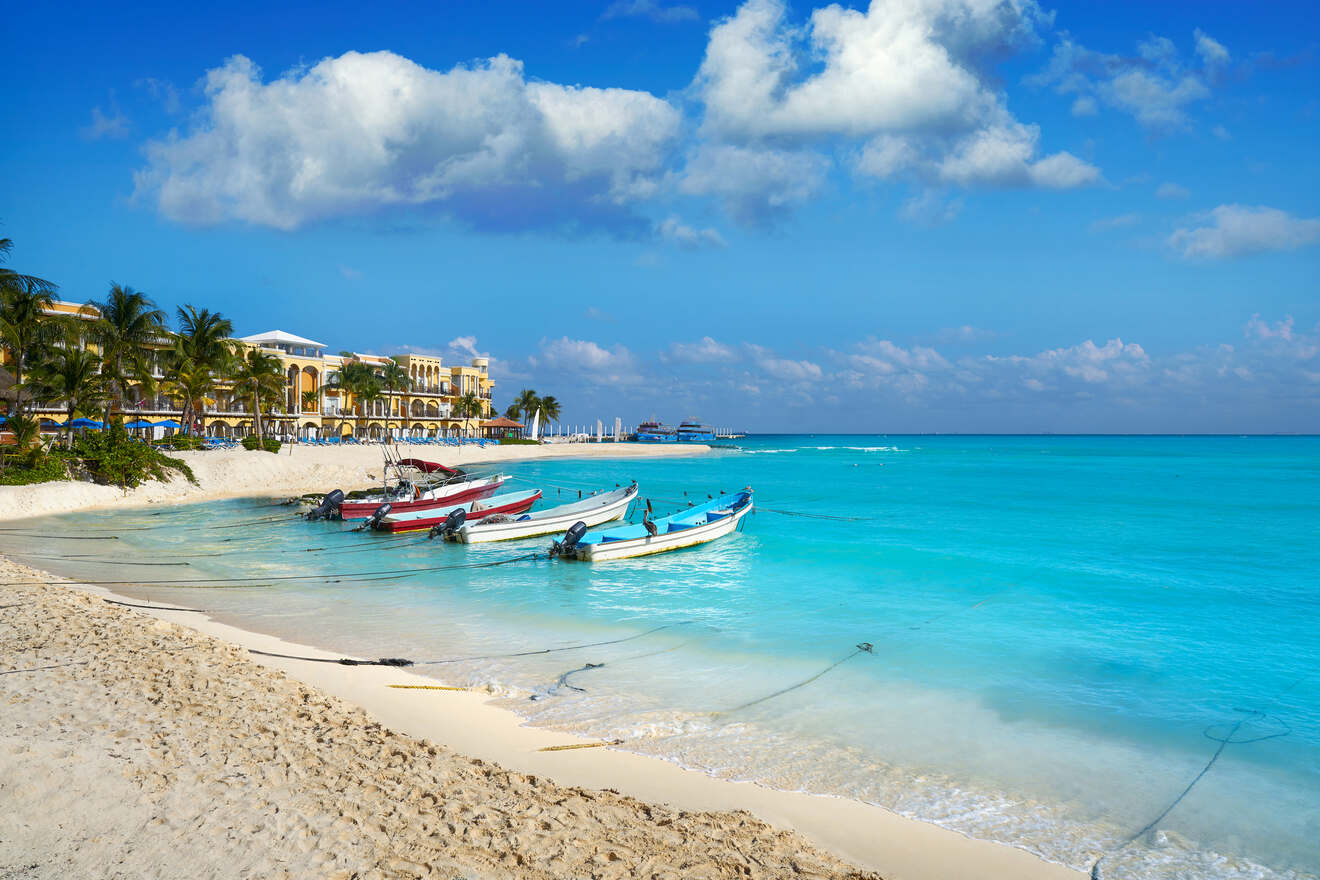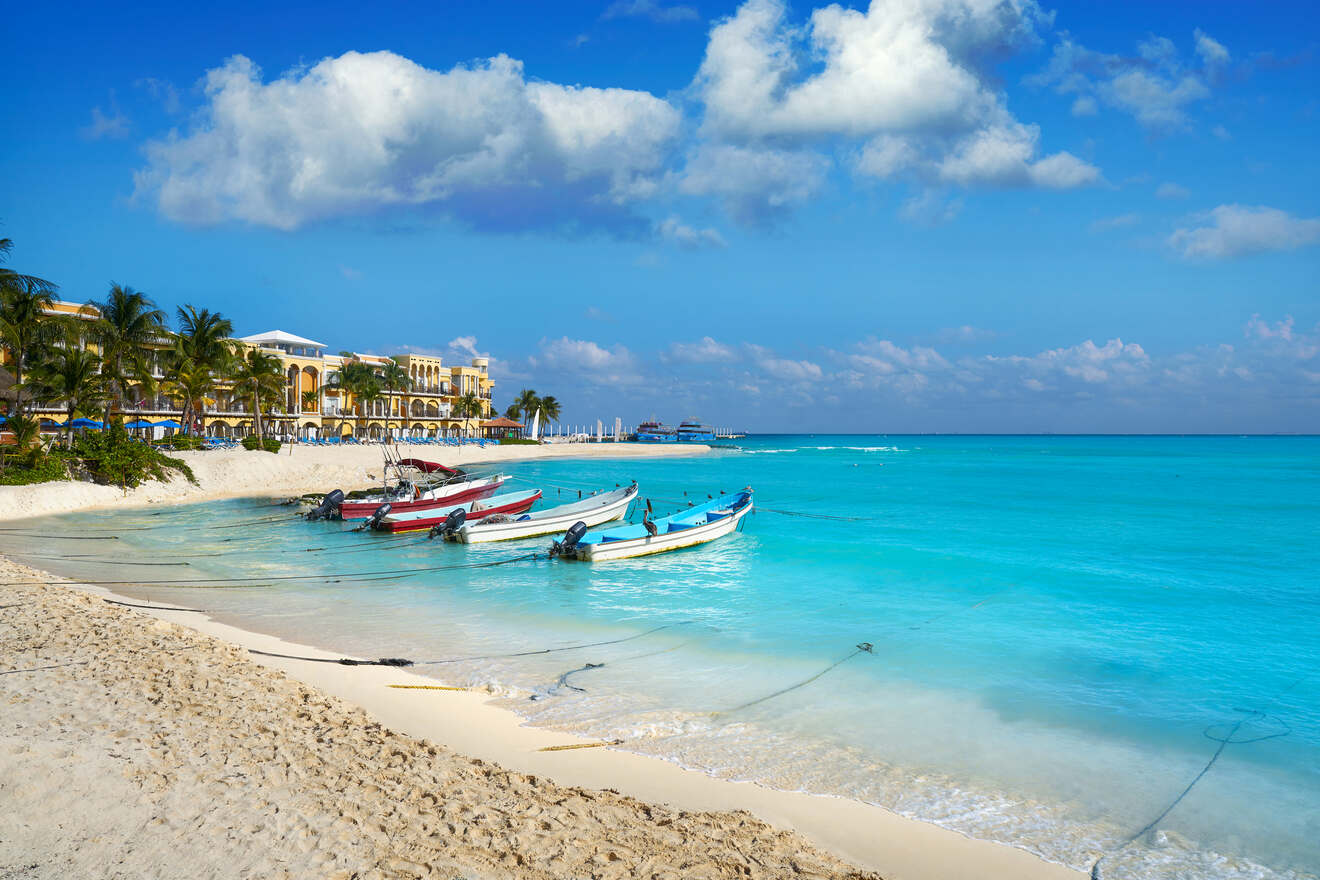 If you're looking for a place where you can have a romantic getaway with your special one, I am sure you will love Playa del Carmen, a lively resort town located on the Yucatan Peninsula, one of the most popular vacation spots in Mexico's east coast!
With its stunning white sandy beaches, Caribbean Sea crystal clear waters, warm weather all year long, and green rainforest jungles, there's no wonder why it has become a popular place for marriages and honeymoons!
Here you can just spend some leisure time on the beach, go scuba diving to explore its coral reefs, check out some exotic bird species at the Xaman Aviary bird-watching area, try some yoga, or visit one of the magical cenotes in the area, like Rio Secreto.
And don't forget that only 2 hours away from Playa del Carmen, you'll find the Chichen Itza Mayan archaeological sites, one of the new Seven Wonders of the World!
Both Cancun and Tulum are also very very popular places to stay in Mexico, and since they are located relatively close to each other, I am not mentioning them specifically in this post. We have dedicated posts on accommodation in Cancun or hotels in Tulum for you to check out! Cancun is great for crazy nightlife and also, surprisingly, a family trip (since they have many great all-inclusive hotels). Tulum is great for couples, it has more of a hippie/hipsters vibe to me.
Your choice, but Yucatan Peninsula is an amazing place whenever you will end up going!
In Playa del Carmen, you will find many all-inclusive resorts, but I made sure to also include other types of accommodation options, from condos to cheaper hotels. Check them out here or check our dedicated post on where to stay in Playa del Carmen for more options!
Luxury hotel
Palmaïa – The House of AïA Wellness All Inclusive
If you want to splurge during your romantic getaway, check out this all-inclusive luxury resort located between the Caribbean Sea and the jungle! Here you will have access to everything you need and more including a beautiful outdoor pool, a wonderful spa and beauty center, 5 à la carte restaurants, and a 24-hour fitness center. The resort also offers countless activities like wellness programs, yoga classes, meditation, cacao ceremonies, sound therapies, etc… So you'll never get bored!
Other accommodation options in Playa del Carmen
Mid-Range
Porto Playa Condo Hotel
You'll love this apartment-style resort nestled in nature, only minutes away from gorgeous beaches
Budget
Meliora by Bunik
This hotel offers an outdoor swimming pool and luxury service for very reasonable prices, check it out!
Airbnb
In this condo, you'll enjoy the most stunning rooftop pool in Playa del Carmen and the best panoramic views
Things to do in Playa del Carmen
3. Cabo San Lucas – for the best parties on the Baja Peninsula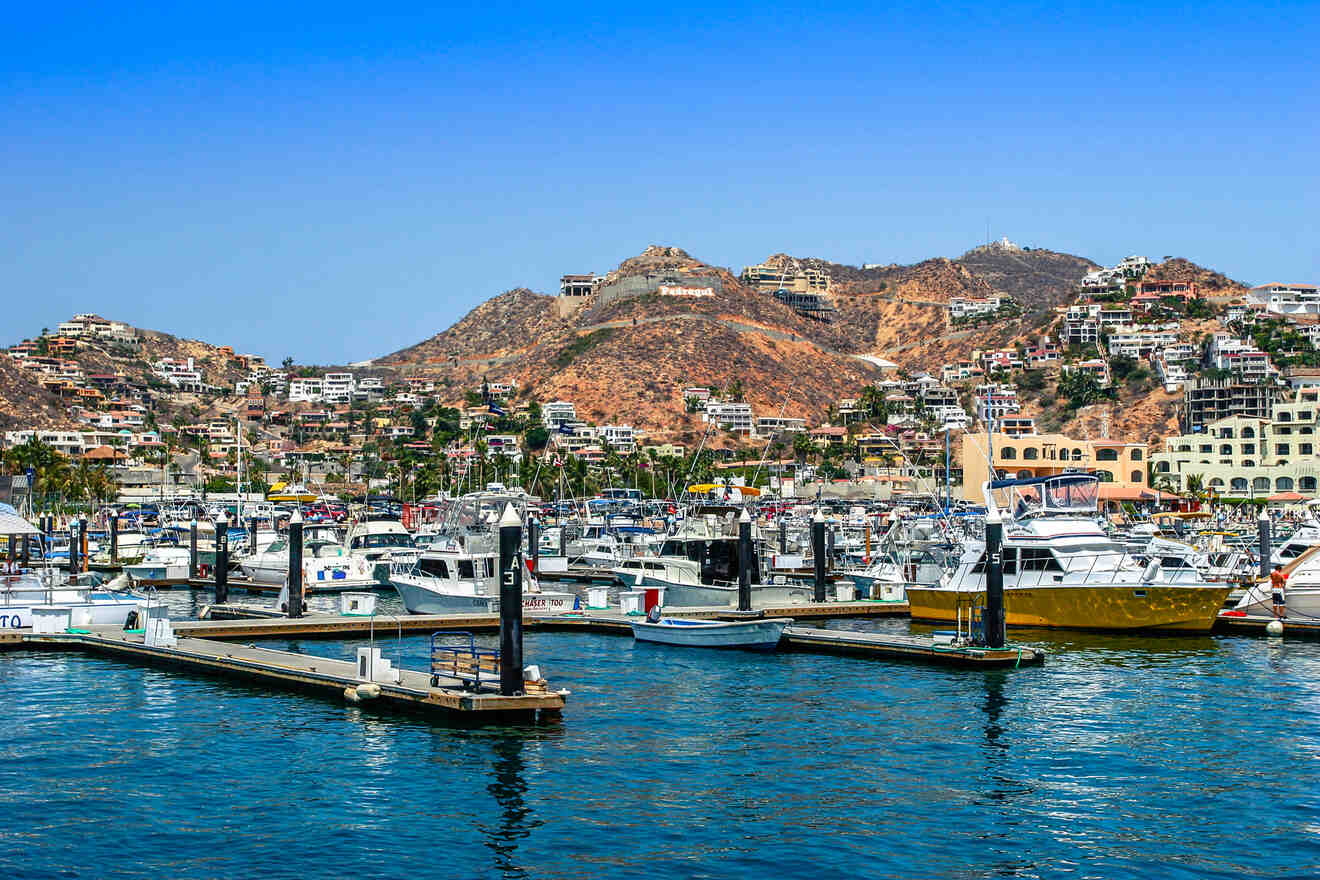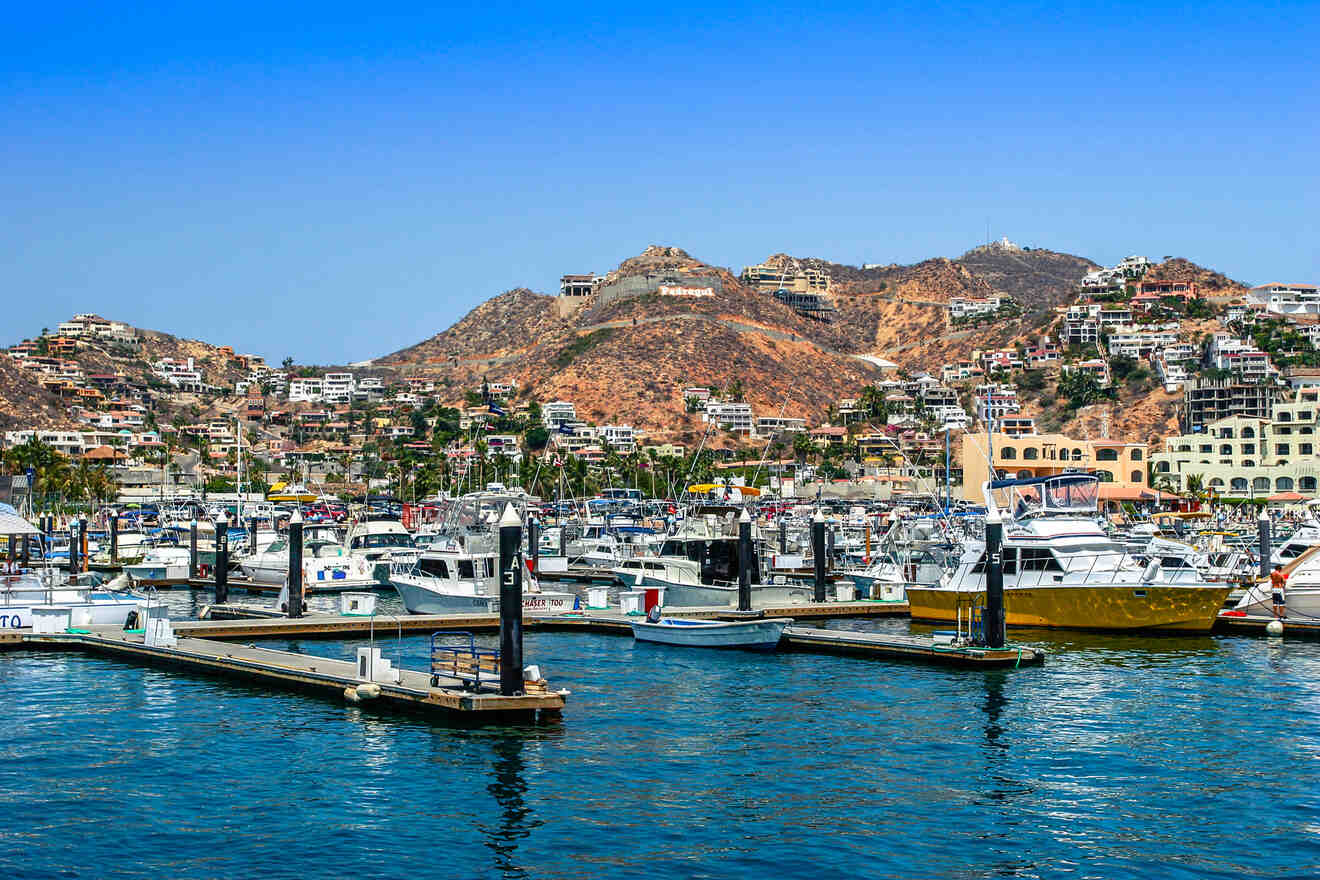 Being part of the Los Cabos region, Cabo San Lucas sits at the southernmost tip of the Baja California Sur peninsula, on Mexico's Pacific coast. It's also known as one of the ultimate vacation spots for spring breakers in the country!
In fact, this city is all about crazy nightlife, entertainment venues and tequila bars, while at the same time hosting upscale restaurants and luxury resorts, which makes it a little pricier than other cities in the country.
But Cabo San Lucas actually has more to offer than wild nightlife, being surrounded by stunning natural landscapes, like the Land's End rock formations, maany white sand beaches, and the beautiful pacific ocean where you can see dolphins, whales, and any kind of marine life.
So, get ready to go snorkeling, join boat tours and watch amazing sunsets by day, and have some crazy fun for the rest of the night… Does it sound like the right holiday for you?
Then check out the following accommodation options, or this post to see all the TOP hotels in the Los Cabos area.
Luxury hotel
Nobu Hotel Los Cabos
This 5 stars resort in Cabo San Lucas is just stunning and offers everything you might need during your vacation. In fact, here you'll have access to a private beach area, 3 swimming pools where you can relax, a sauna, a restaurant serving delicious food, and a children's playground, perfect if you are traveling with kids! I am sure you will also love the guest rooms, all equipped with air conditioning, a coffee machine, and a private balcony with pool views.
Other accommodation options in Los Cabos San Lucas
Mid-Range
Sirena del Mar by Vacation
Located on a cliff, this great hotel offers a private beach area, terraces to soak in the sun, and an outdoor pool.
Budget
Marisol Hotel Boutique
If you want to save money, check out this hotel offering 9 elegant air-conditioned rooms with free wifi
Airbnb
Feel at home in this private condo with a private rooftop jacuzzi, perfect for families or friends!
Things to do in Los Cabos San Lucas
Watch the golden sunset reflecting the Pacific Ocean!
Explore the beautiful Land's End rock formations
Dance the night away at the Nowhere Bar
Go snorkeling on this four-hour cruise with an open bar
Hop aboard this catamaran tour to see the Baja Peninsula whales
Take a day trip to the picturesque town of La Paz
4. Puerto Vallarta – to enjoy water sports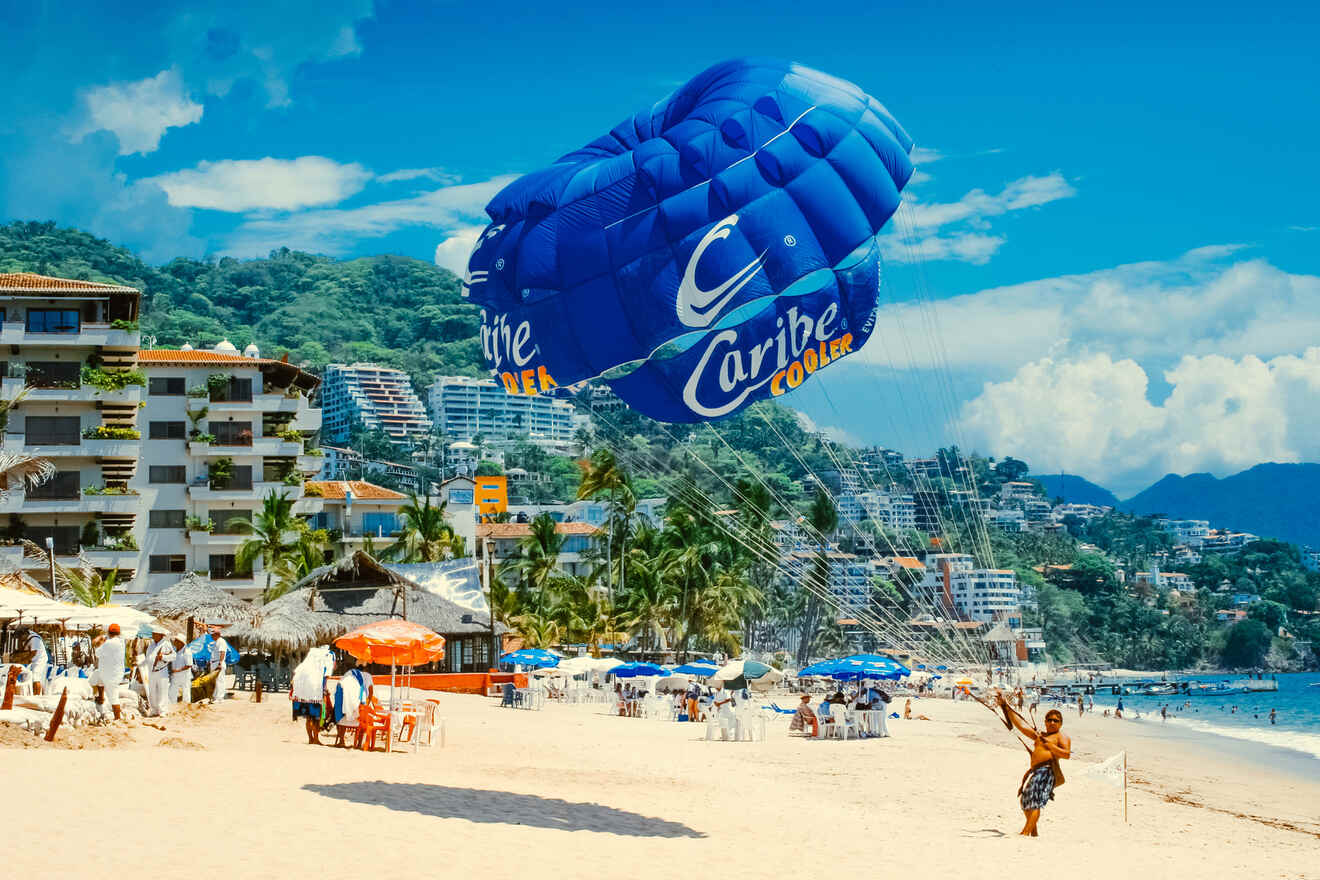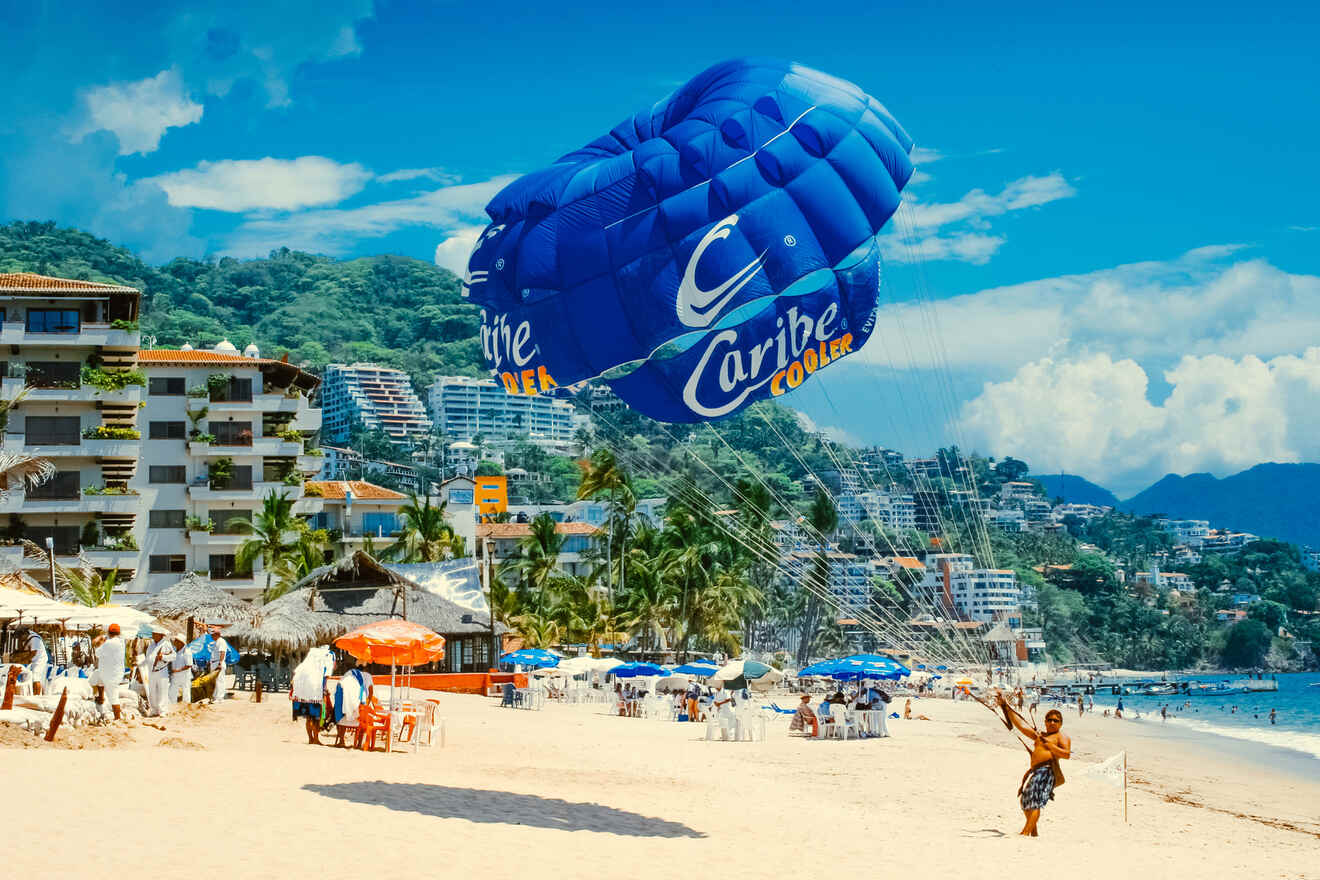 Located on the northern state of Jalisco, on Mexico's Pacific Coast, you'll find Puerto Vallarta, a picturesque resort town with access to jungle mountains, gorgeous beaches and especially amazing water sports, perfect for the ocean and nature lovers like me.
In fact, Puerto Vallarta is one of the most popular diving destinations in Mexico, and you'll notice that from the countless dive shops on the beach. Get ready to swim with dolphins and giant manta rays and see humpback whales if you go there between December and March!
But the city has something to offer at any time of the day, from colonial landmarks to gourmet restaurants, amazing shops, and a very lively nightlife. Puerto Vallarta is also the gay beach capital of Mexico so you'll find countless gay-friendly bars and nightclubs!
The best way to explore all these tourist attractions is just wandering around the city center, where all the museums and galleries are located, and then stopping to have fresh fish tacos in one of the many delicious restaurants of the famous boardwalk Malecon!
Below you'll find some great hotels for any budget, but if you want to check out more accommodation options and areas, read this post about the best neighborhoods in Puerto Vallarta!
Luxury hotel
Hacienda San Angel
Treat yourself to this luxury accommodation in Puerto Vallarta which is also pet-friendly, perfect if you are traveling with your four-legged friend! On the property, you will have access to a beautiful swimming pool, a garden, a huge terrace where you can just relax or enjoy the ocean views, and a restaurant to finish your day with a delicious Mexican dinner. And wait to see the elegant rooms… You'll feel like a king here!
Other accommodation options in Puerto Vallarta
Mid-Range
Grand Miramar All Luxury
This hotel has a stunning adult-only terrace with 3 pools, one exterior hot tub, and activity space.
Budget
San Trópico Petit Hotel
This affordable hotel offers a year-round outdoor pool with views of the mountains, and a delicious breakfast!
Things to do in Puerto Vallarta
Explore the marine life of Los Arcos Marine Park
Have a stroll in Malecon while watching an amazing sunset
See some cool drag shows at Paco's Ranch
Explore the coastline and waters of Banderas Bay on this half-day sailing tour
Dance until very late hours at CC Slaughter
Spend a leisurely day at Los Muertos Beach
See dolphins, turtles, manta rays, and whales on this snorkeling adventure!
Try delicious Mexican dishes on a food tour
5. Oaxaca – where to stay in Mexico for culture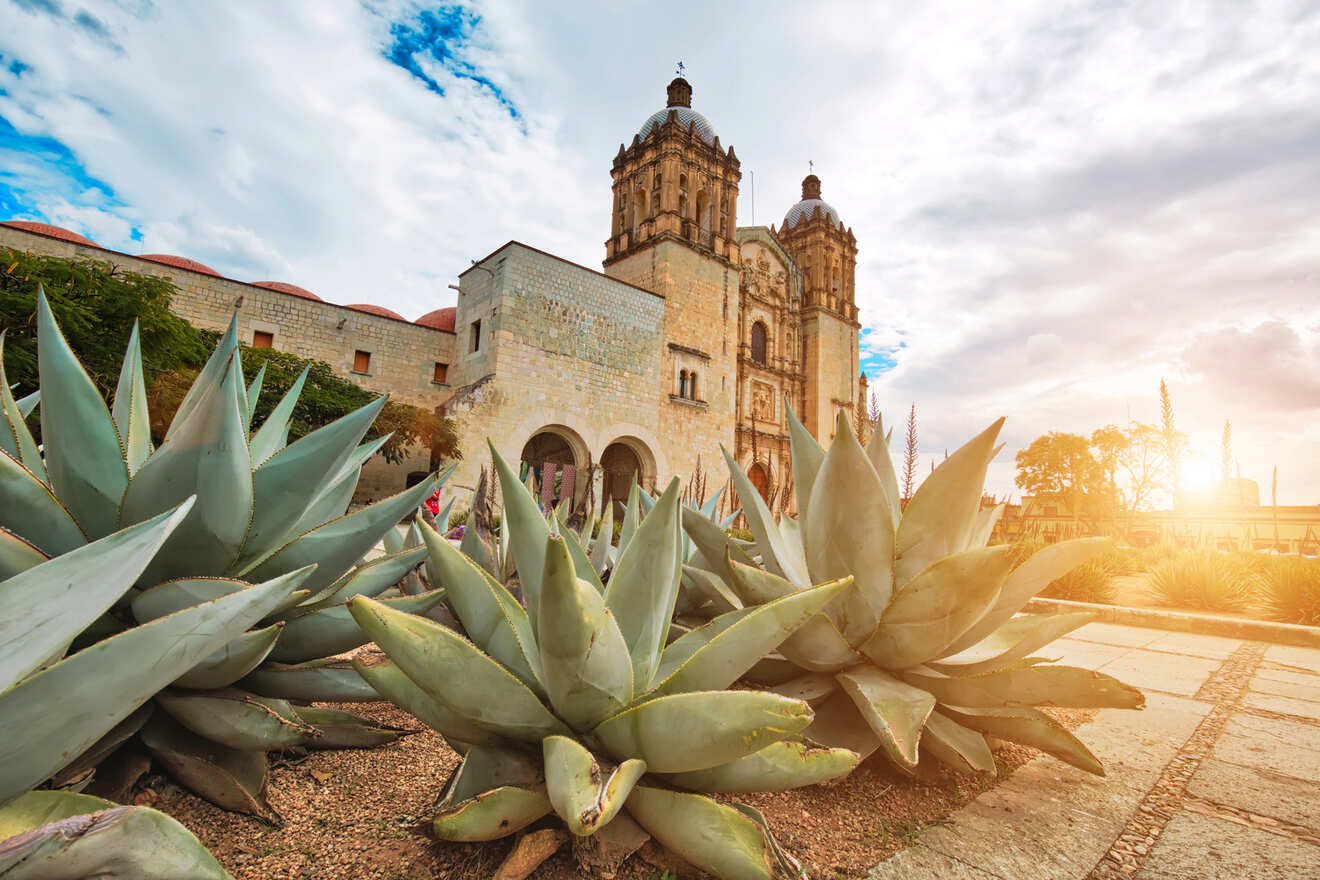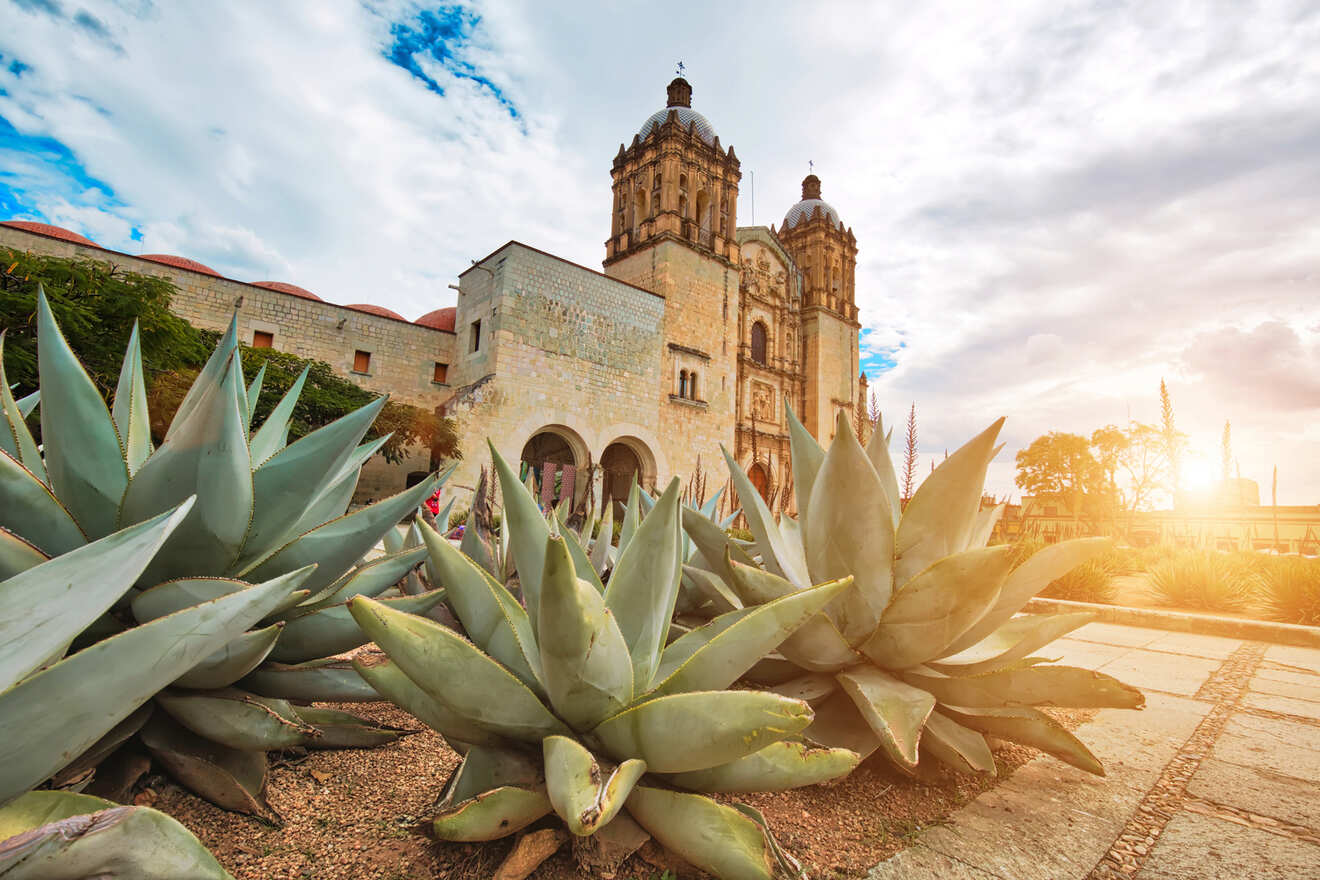 If you want to experience the authentic Mexican experience, you cannot miss the magical Oaxaca, nestled in the Oaxaca Valley and surrounded by beautiful mountains. One of my favorite places not only in Mexico but in the whole world!
This colonial city has a huge cultural, historical, and artistic heritage, as well as delicious food, vibrant markets, and festivals, like the traditional Guelaguetza: a super important celebration of Oaxacan culture!
There are many things to do in Oaxaca, but just walking through El Centro streets (the historic center) is an experience, with all its sounds, smells, and art galleries, plus here is where you'll find some of the city's best attractions, like the Casa de La Ciudad or the Oaxaca Cathedral.
And right in the surroundings of the city, you will have access to natural wonders like Hierve el Agua natural pools, Monte Alban ancient ruins (a UNESCO world heritage site), one of the oldest and most impressive ones in Latin America, and the picturesque town of Mitla.
Below you'll find the best of the best hotels for each price range, but if you want even more choice, check out our post dedicated to where to stay in Oaxaca.
Luxury hotel
Quinta Real Oaxaca
This elegant hotel is set in an old convent, and is the perfect place to escape the city while being at the same time in the middle of it, close to all the top attractions of the historic center! The gorgeous building offers access to a tranquil garden and pool area, and the rooms are very comfortable, quiet, and cozy… Ideal if you want to just relax after an intense day of visiting Oaxaca.
Other accommodation options in Oaxaca
Mid-Range
Hotel Boutique Casa Catrina
Check out this hotel offering massage service, Temazcal ceremonies and a delicious breakfast every morning
Budget
Life Hotel
This is the best hotel in Oaxaca to stay on a budget, featuring family rooms and free private parking  
Airbnb
Have a cozy stay in this bungalow with a private bathroom, a small kitchenette, and air conditioning
Things to do in Oaxaca
FAQs about hotels in Mexico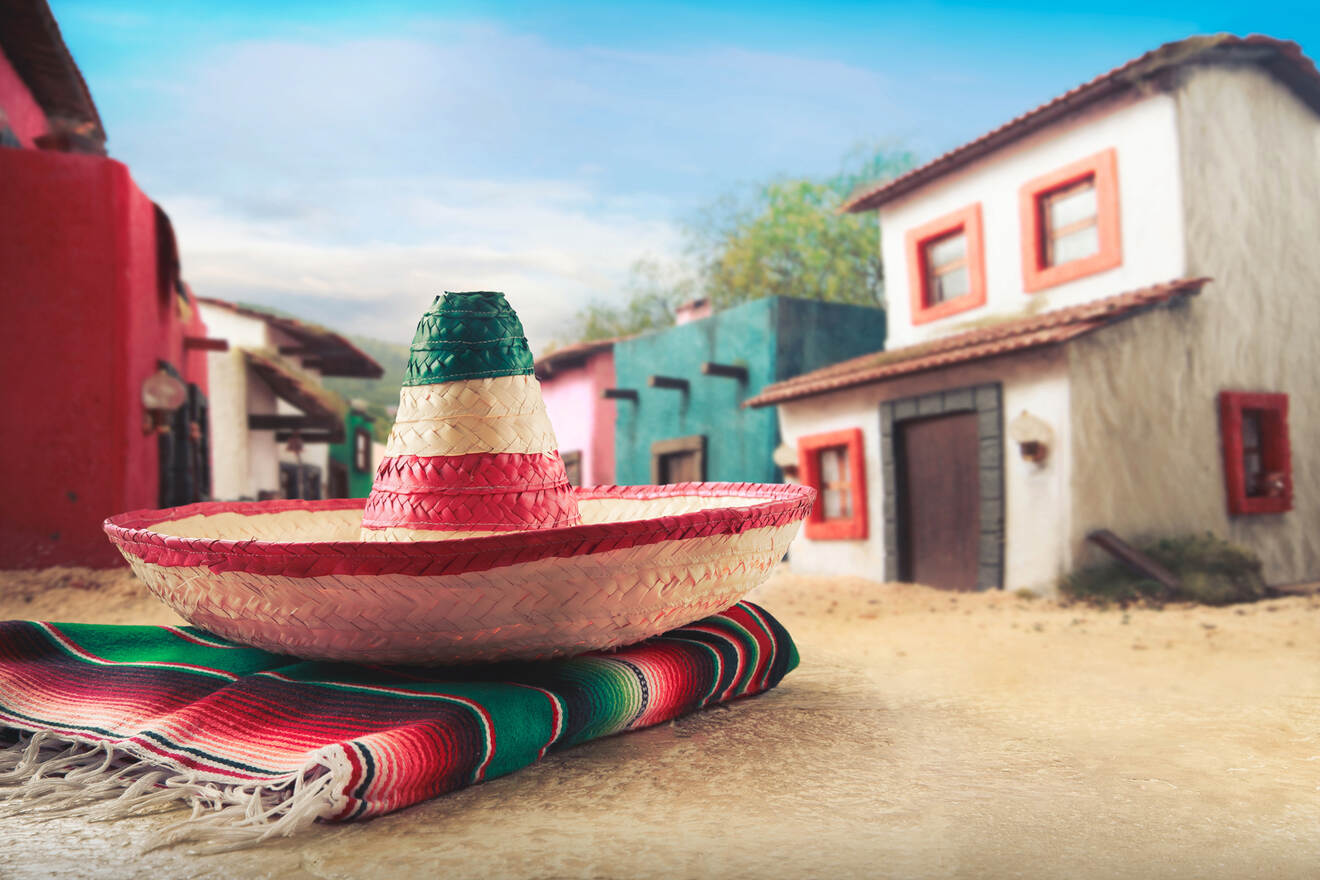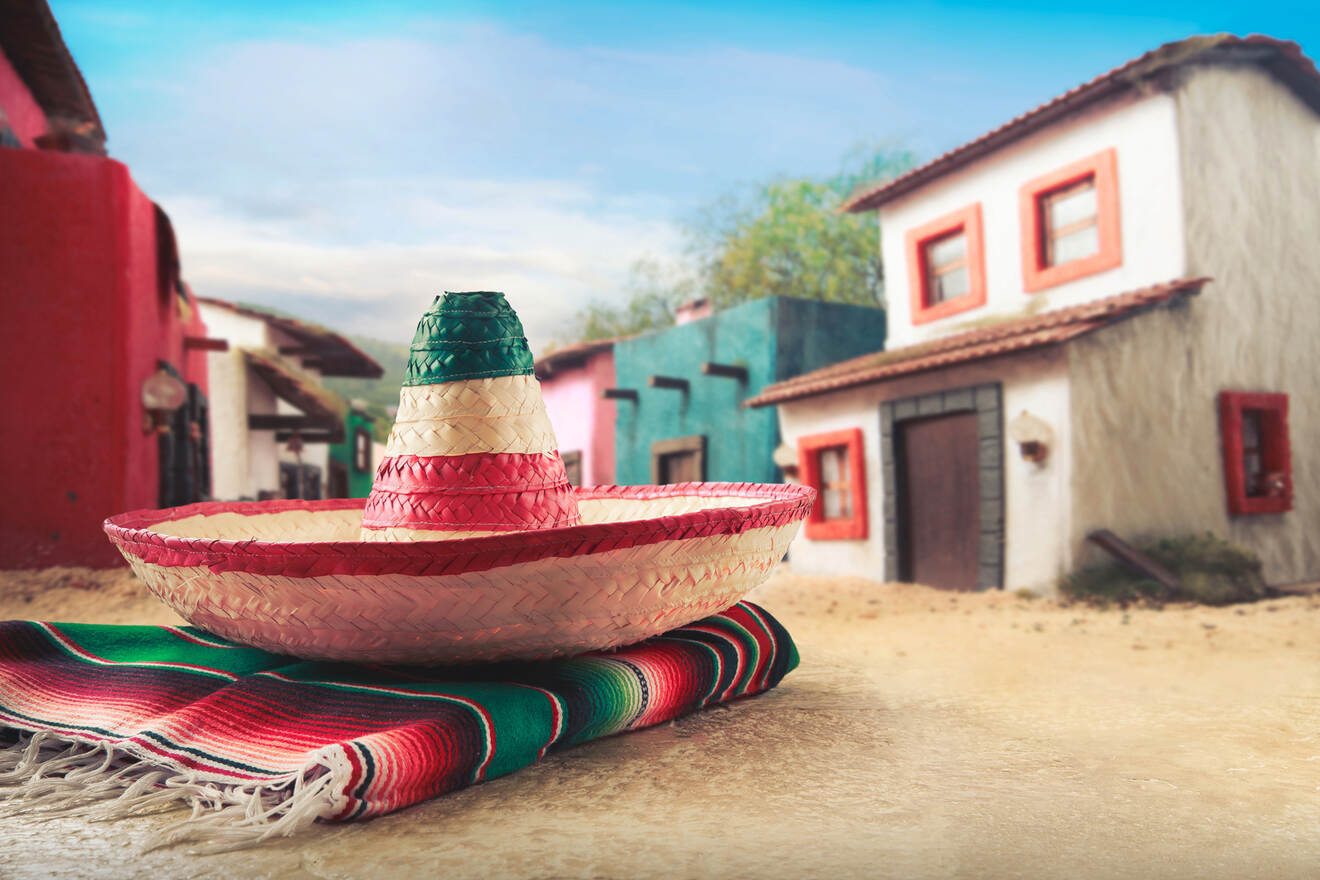 ?Which is the best place where to stay in Mexico ?
? Which is the best place in Mexico for couples?
The best place in Mexico for couples is Playa del Carmen, located in the Yucatan peninsula, at the luxury Palmaïa, from where you can relax on the beautiful beaches, go scuba diving, or explore the Chichen Itza Mayan ruins.  
? Which is the best place in Mexico for parties?
The best vacation spots in Mexico for parties are Cabo San Lucas on the Pacific coast, one of the ultimate vacation spots for spring break, or Tulum in the Yucatan peninsula, which is also one of the lost cities built by the Mayans!
?? Which is the safest area in Mexico?
Conclusion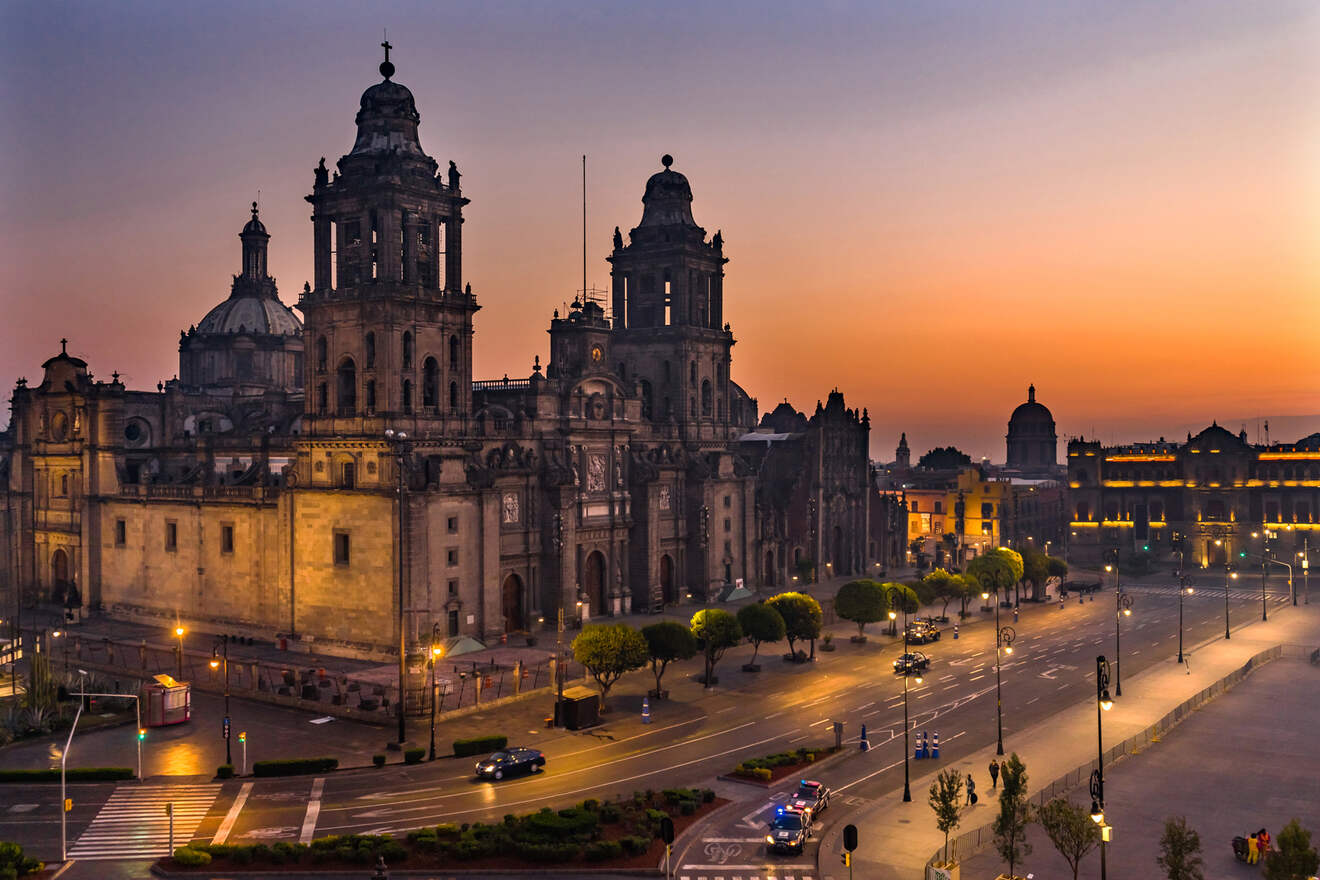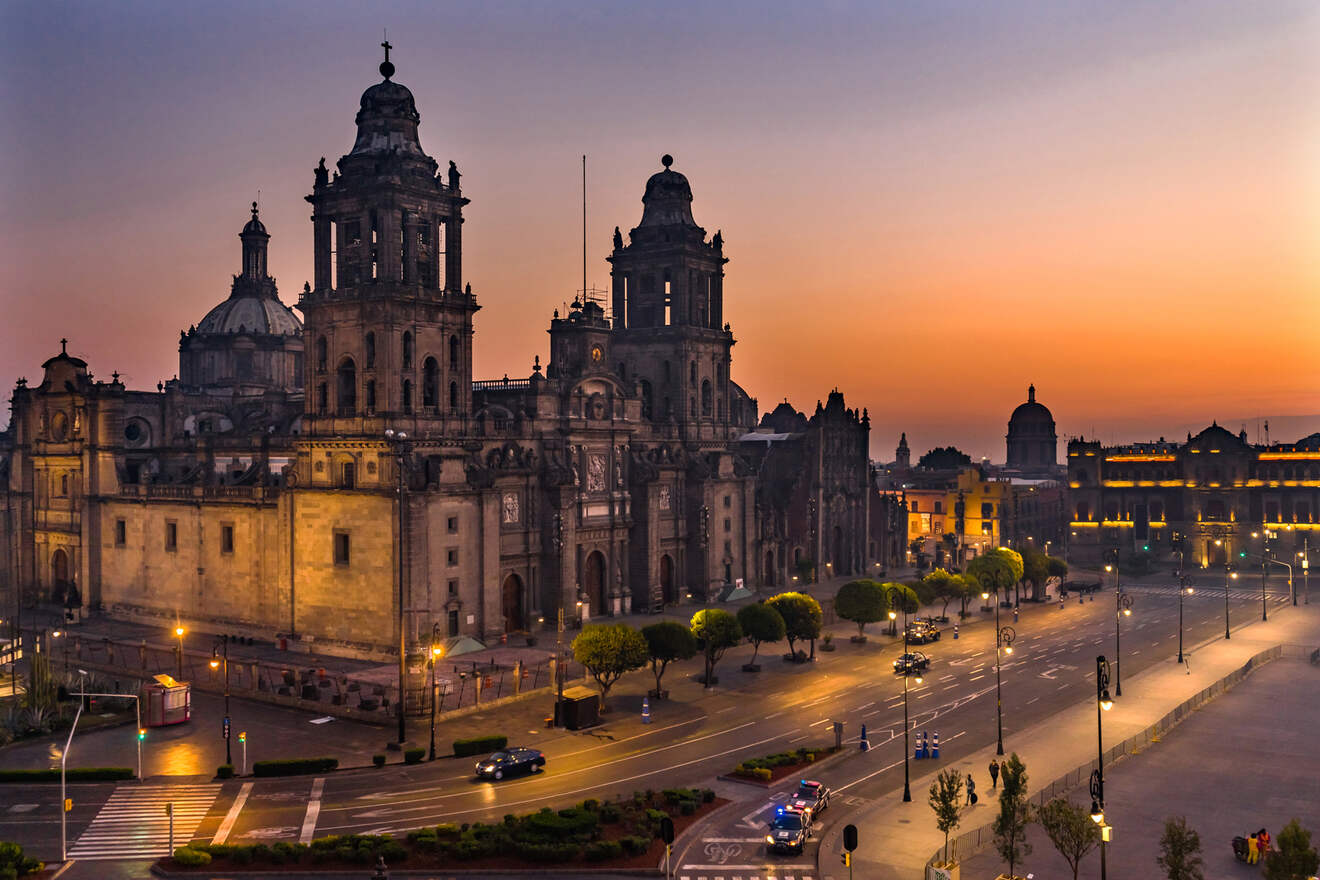 Can you believe it? You finally reached the end of this useful guide with the best cities and vacation spots to stay in Mexico.
Whether you want to experience Mexican culture, have access to beautiful beaches, party, or have a romantic getaway… There's the right place for you out there!
We also saw countless accommodation options, so if you are still confused about which one is the best one for you, check out my 2 absolute favorites, located in Mexico City:
InterContinental Presidente – This is the best hotel in Mexico City if you're looking for a luxury service, offering 6 on-site restaurants
Barceló Mexico Reforma – Check out this great hotel with a swimming pool, an on-site bar and free private parking
Do you like something? Then book it immediately so you can reserve yourself a spot and maybe also take advantage of some good deals!
And if I forgot to cover any important information or you just want to share your experience in Mexico, just let me know in the comments below, I am looking forward to reading them all!
Have an amazing holiday!
Elena
---
Pin it for later!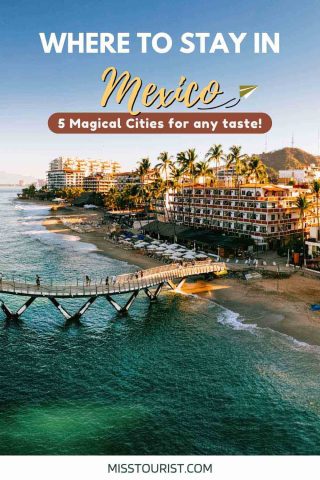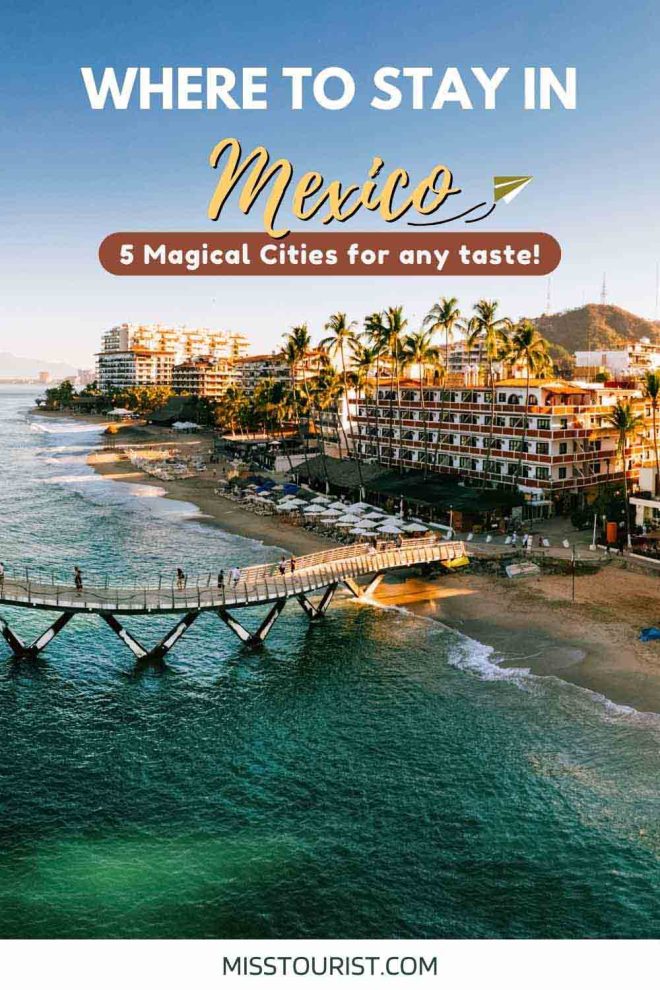 Pin it for later!