Today's serious incident causing serious injuries to Hawaiian Airlines Passengers 30 minutes before landing in Honolulu shows the importance to wear seatbelts on planes.
A Hawaiian Airlines Airbus 330-243 operating HA 35 left Phoenix Sky Harbor Airport Sunday morning with 288 people on board. The flight took off at 7.18 am and landed at Honolulu Daniel K Inouye International airport at 10.46 with more than 36 injured passengers, and a broken ceiling.
According to tweets, 11 passengers were seriously injured on this flight due to turbulences.
Some passengers were seen flying out of their seats and several hitting the ceiling, others come knocked unconscious.
The pilot declared an emergency 30 minutes before landing this passenger flight at Honolulu Daniel K Inouye International airport.
The Honolulu Airport Emergency Medical Services reports responding to a "mass casualty emergency,"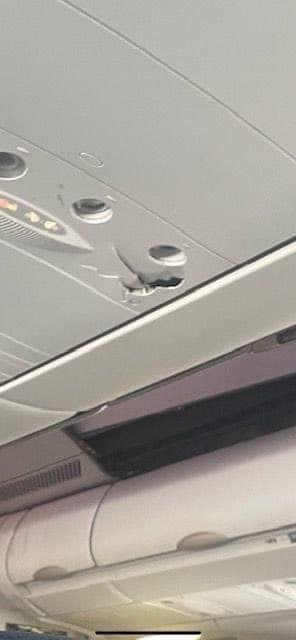 Hawaiian Airlines hours later issued this statement on Twitter:
HA35 from PHX to HNL encountered severe turbulence and landed safely in HNL at 10:50 a.m. today.
Medical care was provided to several guests & crewmembers at the airport for minor injuries while some were swiftly transported to local Oahu hospitals for further care.
We are supporting all affected passengers and employees and are continuing to monitor the situation.
After a beautiful Saturday, the current weather in Hawaii is not good. A flood advisory is in effect until 2:45 p.m. today for the island of Molokai and until 3 p.m. for both Lanai and Maui due to excessive rainfall.
At 11:57 a.m., the radar showed heavy rain falling at a rate of 1 to 2 inches per hour for Maui. Forecasters said heavy rainfall, with thunderstorms, is expected to resume early this afternoon.
EMS spokesperson Shayne Enright said in an email that a call came in today about an arriving Hawaiian Airlines flight that experienced turbulence roughly 30 minutes before landing in Honolulu.
Severe weather warnings today including a high wind warning prompted some storm-related closures.
The flight was scheduled to arrive at 10:58 a.m. today at Terminal 1, gate A12, according to Hawaiian Airlines flight status.
Related News
US$650,000 fund for Jamaica tourism Incubator Innovators
Breaking Travel News, News, Travel Wire News|
UNWTO at WTTC: We are your voice at global governance level
Airlines, Airport, Aviation, Breaking Travel News, News, Travel Wire News|
Five major global travel trends for 2023
Airlines, Airport, Aviation, Breaking Travel News, News, Travel Wire News|
Lufthansa Group overhauls its status program in 2024
Airlines, Airport, Aviation, Breaking Travel News, News, Travel Wire News|
Boeing whistleblower joins FlyersRights' Board of Directors
Airlines, Airport, Aviation, Breaking Travel News, News, Travel Wire News, USA|
Heathrow prepares for Christmas getaway
Airlines, Airport, Aviation|
Air Europa first airline to implement Nium's 'Closed Loop' Payments Alternative
Airlines, Airport, Aviation|
IATA: Sustainable Aviation Fuel production up 200% in 2022
Airlines, Airport, Aviation, Breaking Travel News, News, Travel Wire News|
World Tourism Network partner at Saudi- Caribbean Investment Meeting
Breaking Travel News, News, Travel Wire News|
United hires new Senior Vice President of Technical Operations
Airlines, Airport, Aviation, USA|